SMWS Sample Box No.1.
Whiskyn som hittills har avsmakats ur SMWS-boxen/Adventskalendern har för egen del varit kluriga och svårgissade och där jag ännu inte lyckats pricka in det rätta ursprungsdestilleriet. Önska mig därför gärna lycka till när det nu har blivit dags att presentera samplesflaska nr. 9. 😀 (Alla dessa 2-cl-samples provas blint och där nummerdechiffrering sker i efterhand)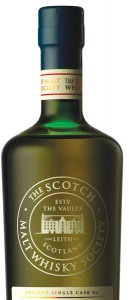 SMWS-SAMPLE #9:
Se tidigare: #1, #2, #3, #4, #5, #6, #7, #8
64.57 Tutti-frutti, limoncello…
Ålder: 11 år
Alkoholhalt: 61,7 %
Fat: 1st fill barrel
"The nose floats grassy, floral, perfumed notes over solid foundations of wood – all knitted
together with lemon puffs, tutti-frutti, vanilla and honey sweetness. The palate balances
sweet heat (aniseed balls, curried sultanas) with marshmallows, and white chocolate;
sherbet, watermelon and limoncello."
WHISKY:
64.57 Tutti-frutti, limoncello…
STYRKA:
61,7%
ÅR: –
ÅLDER: 11 y.o
REGION:
Speyside
TYP: Single Malt
PRIS: ? kr
DESTILLERI:
Mannochmore
SB-ART NR:
–
BUTELJERARE:
Mannochmore
LEVERANTÖR:
SMWS Sweden
ÖVRIG INFO:
Sample #9, 1st fill barrel
DOFT: 3.50 Ljusgult, honungsfärgat innehåll med en (ovattnad) tydlig ekfats-bourbon-nyans i botten. Torkat gräs, bivax och lättare maltighet möter upp den alkoholstarka doften på närmare 62%.
SMAK: 4.00 Ganska raka och ekfatsbaserade tongångar med ljus fruktighet och inslag av spannmål. Några droppar vatten och den lyfter rejält. Litet trevligt pepparstick smyger in från sidan.
ESMAK: 3.50 Avslutet känns förhållandevis enkelt och har lite medföljande hetta och pepprighet. Kunde kanske ha fått ta ut svängarna lite mera för min del.
HELHET: 3.75 En ganska ljus smakupplevelse som bjuder på lite hetare inslag mot slutet. Blir bättre med vatten men tycker den känns lite för händelselös bitvis för att kunna plocka hem fler poäng hos mig.
SORT: (Min gissning) Lutar åt en Speyside-gissning också denna gången och där min destilleri-chansning faller på Strathisla.
Ev. kommentar: Stoppa gärna näsan i det slutligen tomma glaset för en mycket trevlig doft upplevelse! Kan också så här i efterhand notera att SMWS egen beskrivning "tutti-frutti" är klockren och som det fanns en hel del utav i denna.
TOTALPOÄNG: 14,75 / 20.00 p

Notering: 151214 – SMWS Sample Box, Blindprov (FAN)