SMWS Sample Box No.1.
Det drar sig emot jul så sakteliga och idag står det lite Lucia-firande på agendan men först kommer här min smaknotering på sample #8 ur SMWS-boxen/Adventskalendern som avnjöts under gårdagskvällen.
(Alla dessa 2-cl-samples provas blint och där dechiffrering sker i efterhand)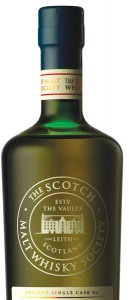 SMWS-SAMPLE #8:
Se tidigare: #1, #2, #3, #4, #5, #6, #7
73.64 Anytime can be Xmas
Ålder: 24 år
Alkoholhalt: 58,4%
Fat: Refill butt

"Dried fruits and spices; rich Xmas cake, well dosed with sherry and ginger wine. A
voluptuous texture and a sweet taste with dried figs and chocolate. Water brings fruit-
cake mix and candied peel, and introduces hazelnut praline to the aftertaste."
WHISKY:
73.64 "Anytime can be Xmas"
STYRKA:
58,4%
ÅR: –
ÅLDER: 24 y.o
REGION:
Speyside
TYP: Single Malt
PRIS: ? kr
DESTILLERI:
Aultmore
SB-ART NR:
–
BUTELJERARE:
Aultmore
LEVERANTÖR:
SMWS
ÖVRIG INFO:
Sample #8, Refill butt
DOFT: 4.25 SMWS-sample nr 8 är en fruktig upplevelse som också har en doftkaraktär som är ganska söt. Fruktkaka, torkade mörka bär och även lite mandelmassa(?). Riktigt nice!
SMAK: 4.25 Humm… Här finns ett ganska bekant Speyside-aktigt inslag som efter några droppar vatten verkligen blommar ut. Mjuka, runda och underbara tongångar av fruktig malt, aprikos, torkade mörka bär, vanilj och svag sherry.
ESMAK: 4.00 Mjukt men ändå smakrikt avslut som är en bra och mycket god förlängning på smaken. Gillas!
HELHET: 4.00 En mogen, vällagrad och stabil whisky med bra och lite julinspirerad smak och med härlig fyllighet.
SORT: (min gissning) Det finns helt klart nått igenkännande i denna som gör att jag tror min gissning kan gå hem… Cragganmore!
Ev. kommentar: Attans, ja att smaka på whisky helt blint och utan att veta dess ursprung är inte helt lätt och där jag åter var ute och cyklade… Fasen, trodde jag var helt rätt ute med min gissning på denna! 🙄 😀 Tycker för övrigt att blindprovning är kul, ärligt och ett bra sätt att testa sin whisky på och kan rekommenderas.
TOTALPOÄNG: 16,50 / 20.00 p

Notering: 151212 – SMWS Sample Box, Blindprov (FAN)