Spirit of Hven, ja de allra flesta whiskydrickare vet vad det handlar om när vårt sydligaste destilleri i landet förs på tal och där det nu blivit dags att provsmaka Alioth, den femte sorten ur whiskyserien "Sevens Stars".
"Namnet Alioth stammar från arabiska, alyat som betyder "Fårets svans", efter dess position i asterismen. Alioth är den ljusstarkaste stjärnan i konstellationen och nr.31 bland stjärnor synliga från jorden."
WHISKY:
Spirit of Hven Seven Stars no.5 Alioth
STYRKA:
45%
ÅR: 2017
ÅLDER: –
REGION:
Sverige
TYP: Singelmalt
PRIS: 795 kr
DESTILLERI:
Spirit of Hven
SB-ART NR:
40047
BUTELJERARE:
Spirit of Hven
LEVERANTÖR:
Spirit of Hven
ÖVRIG INFO:
3167 btl, 50 cl, 34 ppm, non-chill filter, no coloring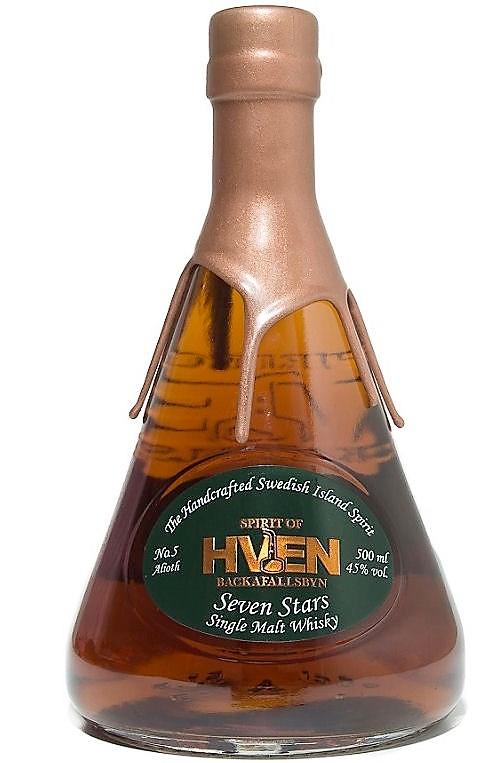 Mina omdömen:
DOFT: 4.00 Åter är det en härligt kopparödbrun-nyanserad whisky som glittrar fint i glaset ifrån vårt sydligaste svenska destilleri ute på ön Hven. Lingon och choklad. Torrare sherrysötma, tobaksblad och torkade russin. Luktar riktigt inbjudande!
SMAK: 3.75 Jämfört med tidigare whisky ur serien så känns denna något lite ljusare i sin karaktär, mindre söt och där man kan ana en rökförnimmelse i ridån. Röda vinbär, citrus, kaffebönor och lite pepprig chili som tillsamman med alkoholen ger whiskyn ett gott, kraftfullt bett med en torrare brytning. Önskar att röken kunde få bryta igenom lite mer…
ESMAK: 3.75 Gillar den lätta rökslingan som man får leta lite efter i bakgrunden och det lite sträva ekfatsinslaget tillsammans med de lätta sherrytonerna i det medellånga och lite syrliga avslutet.
HELHET: 4.00 En ganska händelserik whisky med flera intressanta inslag och goda karaktärer. De svagt syrliga röda bären, hinten av citrus och de lite sträva sherrynoterna pockar hela tiden på uppmärksamheten och där hettan och värmen som kommer underifrån drygar ut hela smakupplevelsen till det bättre.
Ev. kommentar: 34 ppm fenolhalt… skulle själv ha gissat på betydligt lägre. Givetvis plus i kanten för att den ej kylfiltrerats eller har andra tillsatta färgämnen eller tillsatser. Skojig och tilltalande flaska och riktigt kul att svensk whisky överlag och på allvar börjar kunna matcha konkurrenterna utomlands! 🙂
TOTALPOÄNG: 15,50 / 20.00 p