Mizar är namnet på den 6:e whiskyn ut ifrån Spirit of Hvens serie "Seven Stars" och där deras singlemalt-whisky har fått sin slutlagring på fat som tidigare innehållit Cabernet Sauvignon, kryddat med Merlot, Cabernet Franc och Petit Verdot.
Likt de tidigare whiskysorterna i denna serie har även denna fått sitt namn efter en stjärna ur stjärnbilden Ursa Major och där den etymologiska namnet betyder gördel eller förkläde. (säljstart 180302)
Detta är en whiskypost baserad på ett varuprov som har tilldelats och förärats min whiskyblogg här på freddeboos.se och där mina smaknoter och betyg är helt personliga.
WHISKY:
Spirit of Hven Seven Stars no.6:1 Mizar
STYRKA:
45%
ÅR: 2008
ÅLDER: –
REGION:
Sverige
TYP: Singelmalt
PRIS: 795 kr (50 cl)
DESTILLERI:
Spirit of Hven
SB-ART NR:
40165
BUTELJERARE:
Spirit of Hven
LEVERANTÖR:
Spirit of Hven
ÖVRIG INFO:
3670 btl, 50 cl, non-chill filter, no coloring, varuprov
Recept: 38 ppm rökmalt (35,3%), Lagermalt (35,3%), Chokladmalt (5,9%)
7 till 10 års lagringstid på:
64,7% Muchlenbergii ek från Missouri,
23,6 % Petraca ek från Alier
11,7% Rouber från Bourgogne
Mina omdömen: Spirit of Hven Seven Stars no.6:1 Mizar 45% (2018)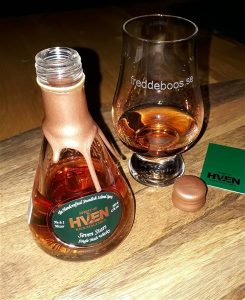 DOFT: 3.75 Rund nos med som har inslag av plommon- och russinkompott med en del sirapssötma. Ekig vanilj med lättare läderstråk och tendens av rökighet. Läckert mörkt rödbrun och kopparfärgad whisky som tilltalar!
SMAK: 3.75 Också smaken är inledningsvis otroligt rund och mjuk och med väl maskerad alkoholnivå. Åter är det fruktkompott av de mörka bären (russin, plommon, syrliga röda äpplen och körsbär?) som står i främsta ledet och som först presenterar sig. Med underliggande svag beskton som drar lite åt det torra hållet i bakgrunden tillsammans med trätoner ifrån de vinösa ekfaten. Lite svårbeskriven smakkaraktär då den är både ganska kraftfull men också även lite blek i sin framtoning.
ESMAK: 3.75. För mig är detta en vinterwhisky där man kan njuta och suga ganska länge på den goda fuktigheten, förnimmelse av röken i horisonten och den förvisso anonyma men ändå närvarande alkoholhettan. Gott!
HELHET: 3,75 En förträfflig svensk whisky för den allrounda whiskydrickaren. Här finns en härlig rund mjukhet som samspelar fint med de lite mera tyngre inslagen i form av läderskärp, russin, sötma, liten beska, röknyanser, vanilj, ekfat. Tilltalande flaska och givetvis också plus i kanten för att den ej är kylfiltrerad och inte har några färgämnen i sig. Önskar personligen att kunna känna lite mera av röken…
TOTALPOÄNG: 15,00 / 20.00 p