Alkaid No. 7 – En nyhet och den sista whiskyn ut ifrån Spirit of Hvens "Seven Stars"-serie och där receptet för denna version är det mest komplexa och kraftigaste man använt sig av. Denna whisky släpps i morgon (8 mars) och där freddeboos.se åter har fått den stora äran att kunna förhandssmaka några centilitrar… :)!!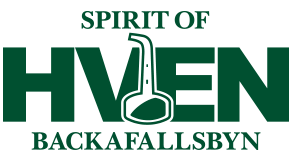 Av de nio ingående faten är fördelningen 12,3% lagermalt, 9,5 chokladmalt/ale-malt och 78,1% torvrökt malt
1 st fat av Patraea ek (ifrån Allier) som tidigare innehållit chateau Margaux
1 st fat Faginea ek (Portugal) med tidigare innehållit Olorosso sherry
5 st fat Muchlenbergii ek (Missouri) som tidigare innehållit Hven Vodka
2 st fat Robur ek (Bourgogne) som tidigare innehållit vin ifrån Maculan
Varje flaska är individuellt numrerad och vaxad för hand och utan några tillsatser eller färgämnen. För att behålla smakerna är whiskyn ej heller kol- eller kylfiltrerad och ekologiskt certifierad.
Denna whisky har liksom sina föregående utgåvor fått sitt namn efter en av de sju stjärnorna i stjärnbilden Stora björnen (Ursa Major). Hur mycket eller lite detta påverkar smakbilden på denna whisky låter jag vara osagt. ?
Spirit of Hven Seven Stars No.7 Alkaid 45% (2019)
WHISKY:
Spirit of Hven Seven Stars no.7 Alkaid
STYRKA:
45%
ÅR: 2019
ÅLDER: –
REGION:
Sverige
TYP: Singelmalt
PRIS: 795 kr (50 cl)
DESTILLERI:
Spirit of Hven
SB-ART NR:
40396
BUTELJERARE:
Spirit of Hven
LEVERANTÖR:
Spirit of Hven
ÖVRIG INFO:
3500 btl
Mina omdömen: Spirit of Hven Seven Stars no.7 Alkaid 45% (2019)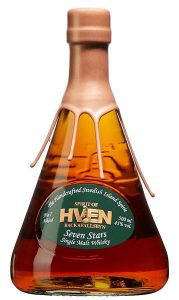 DOFT: Mjuka, runda och lätt söta inslag är det första som möter upp och där mina tankar (som ofta med Hven whisky) får mig att tänka på julen. Här finns en härligt sammansatt fruktkaka med mörka (sherry)bär, av typen russin, plommon,, lite vanilj och några syrliga lingon som balanserar upp och bryter av. Kanske kan man också även ana en liten lättare rökdimma långt där bak… eller är det kanske mera kryddigheten som man känner? Hur som helst är detta en riktigt härlig doft tycker jag.
SMAK: Lite mera ekfatighet framträder i smaken och där det finns en fräsch och lätt sherrypåminnande röd tråd som går genom hela smakpaletten. Här finns också en liten understödjande och något torr beska och där sötman har dragit sig tillbaka något. Upplever den inte direkt rökig utan snarare kryddig. Detta gillar jag!
ESMAK: Inte heller i den avslutande delen hittar jag så stor rökighet utan här är det fortfarande ekfaten med den något beska undertonen och de mörka bären som talar och som hänger kvar en ganska lång stund. En brännande kryddighet nyper också till lite i kindpartiet… Trevligt!
HELHET: En tilltalande och mycket smakrik whisky med en ganska unik och egen smakbild och som jag tycker på ett positivt sätt står ut lite grann. Det smakar mycket, det smakar sött, kryddigt och lite beskt. Tycker ju dessutom att den otroligt snygga flaskan är asläcker och bör finnas på varje whiskydrickares hylla!!

Notering: 190306, Sample/Varuprov, Spirit of Hven