"As deep as the sea that surrounds us…" Ja, att fjolårets (2017) utgåva Ardbeg Kelpie Committee Release 51,7% försöker måla upp en bild av ett svartfärgat rökmonster råder ju ingen tvekan om och med "skerry stories from the deep" ges man ju lätt intrycket av att man troligtvis kommer att få möta det djupa havets allra mörkaste sida. Och inte mig emot. Bring it on!! 😀 😛
Detta är en ej åldersangiven (NAS) whisky som fått lagringstid på nytillverkade ekfat som ursprungligen kommer ifrån området kring Caucasus-regionen och Svarta havet. Denna Committee Release-versionen var trots sin högre buteljeringsstyrka av nån anledning en hundring billigare än den nedvattnade och limiterade standardutgåvan av Kelpie på 46% som kom ut en månad senare på den svenska marknaden.
Läs mer om Ardbeg Kelpie (Limited Edition) 46% >>>
WHISKY:
Ardbeg Kelpie Committee Release
STYRKA:
51,7%
DEST. ÅR: 2017
ÅLDER: NAS
REGION:
Islay
TYP: Singlemalt
PRIS: 899 kr
PRODUCENT:
Ardbeg
SB-ART NR:
*slutsåld*
BUTELJERARE:
Ardbeg
LEVERANTÖR:
Moët Hennessy Sverige
ÖVRIG INFO:
Committee Release, Virgin Black Sea Oak Casks
MINA OMDÖMEN OCH BETYG FÖR: Ardbeg Kelpie Committee Release (2017) 51,7%
DOFT: 4.25 Torr askighet, utbränd brasa med en viss stickighet (ovattnad). Här finns inslag av kreosot och en ganska hög ppm-känsla. Vanilj, kola och en del fatinslag av ek letar sig också fram till näsan. En svag och liten menthol/vicksblå-karaktär kan även anas i de bakre regionerna.
SMAK: 4.25 Lite, ung och ljus maltighet inleder smakresan och som har en liten spritig bitighet (ovattnad) innan röknyanser tar över. Här finns vitpepparkrydda, spannmål, tång, kartong, ekfat och lite bourbonvanilj. Röksmaken är ganska kraftfull och har en hel del sotiga (kreosot) inslag och torrare askighet. Rökta charkuterier i form av bacon och grillkorv finns med i smaken och är också tongivande.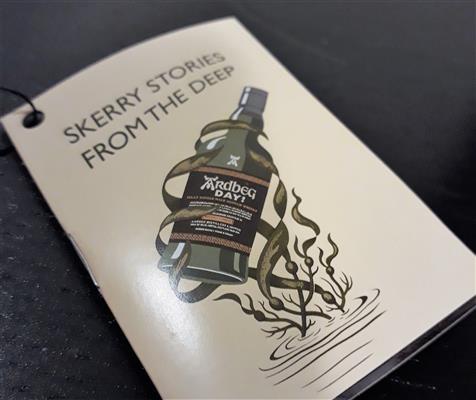 ESMAK: 4.00 …som fortsätter även ut i eftersmaken. Nån droppe vatten tonar ned och tar udden av smaken lite grann men där rökigheten fortfarande känns ganska dominant. Gott, lite bitigt och ganska rökigt! 🙂
HELHET: 4.25 Trevlig rökwhisky med ganska kraftigt bett, ganska stor askighet och med inslag av ljusare ekfat. Röksmaken är god men tycker att den nedvattnade lillebrorsans rökighet (som jag gillar bättre) känns lite större och djupare men att denna ändå har mera kraftfullhet i smaken.
Ev. kommentar: Ganska "ljus" smak på denna och där de spritiga inslagen inte ligger jättelångt bort. Edit: Upplever en betydligt bättre och kraftfullare rökton i det tomma glaset efter en liten stund, speciellt om man jämför med det andra glaset som lillebrorsan tidigare fanns i. Lite grann ombytta roller… ? Intressant!
VILL JAG: Ha den på hyllan?: ✔ Ge bort i present?: ✖ (Behålls för eget bruk eller flippas vidare… DYRT!! ?)
TOTALPOÄNG: 16,75 av 20.00 p

Notering: 180210, Sample (FAN)

Vad tycker andra whiskybloggare om samma whisky:
| Words Of Whisky | FredagsWhisky | Tjeders Whisky | Whiskyarkivet | Whiskynörden |