En specialutgåva buteljerad och lanserad för den svenska whiskymarknaden och där man får ta del av några av de stora Islay-destillerierna, sammangifta i en rökig blended. Är inte helt hundra på i vilken grad eller vilka av de olika destillerierna som ingår i just denna svenska version men för den som följt Big Peat ett tag vet ju att Ardbeg, Caol Ila, Bowmore och bland annat även stängda Port Ellen brukar vara några av de tongivande destillerier som finns med och bidrar till denna ej åldersangivna Islay Blended Malt-whiskyn.
WHISKY:
Big Peat The Sweden Edition 48%
STYRKA:
48%
ÅR: 2018
ÅLDER: NAS
REGION:
Islay
TYP: Blended
PRIS: 399 kr (50 cl)
PRODUCENT:
Douglas Laing
SB-ART NR:
82959
BUTELJERARE:
Douglas Laing
LEVERANTÖR:
Philipson Söderberg
ÖVRIG INFO:
Small batch
MINA OMDÖMEN OCH BETYG FÖR: Big Peat The Sweden Edition (2018) 48%
DOFT: Lätt ljusgul (typ flädersaft) färgton där dropparna från whiskyleggsen (ridån på glaskanten) är ganska tunna och små. Doften skvallrar på långt håll om grillad korv, rökta charkuterier, utbrunnen brasa, ostronskal, aska och grillkol. Ojojoj, detta sniffar man länge på! 4.75p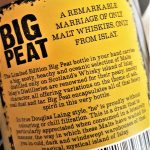 SMAK: Lite tunnare kropp än förväntat (vid första sippen), ja nästan på gränsen till vattnig. Efter nån sekund i munnen utvecklas dock en mera fylligare ton och där torvrökighet fyller hela rummet. Plastig fenol, skorstensinsida och den klassiska nytjärade ekan binder ihop och smakerna faller på plats. En liten återhämtning i smaken som man bara kan sitta och småle åt, för det är så gott. Jävligt gott!! 4.50p

ESMAK: Lite torrbetonat avslut som också den har en ganska rejäl rökighet men som jag tycker tappar något i längden och trycket mot slutet. 4.25p

HELHET: För att gilla detta, fullt ut, bör man på förhand veta, eller i alla fall ha en liten aning om vad själva begreppet med ISLAY-whisky ofta innebär… Detta är tjockt och samtidigt lite kantigt i smaken, dessutom rejält sotigt, kraftfullt och med en underbar och igenkännigsbar karaktär. Gillar man grillkorv, testa gärna!! 4,50 p
Plus i kanten för bra buteljeringsstyrka, att den ej är kylfiltrerad och att inga färgtillsatser har använts.
Ev. kommentar: Funderar även lite över smartheten/snikenheten med att släppa "small batches" med egna landsetiketter för varje enskilt land runt om i världen… Haha, definitivt lite av en mardröm för den samlande whiskynörden men samtidigt så jäkla eggande och åtråvärt. (där ju jagandet efter flaskorna ofta tillhör en stor del av själva upplevelsen). Psst – råkar kanske just DU sitta på nån kul (och för mig ej tidigare smakad) batch så kan man alltid kontakta mig här (eller via andra sociala medier, typ Facebook eller Insta) för vidare samtal.
VILL JAG: Ha den på hyllan?:
Ge bort i present?: ➖ (nej, denna behåller man själv!! ?) Prisvärd?
TOTALPOÄNG: 18,00 av 20.00 p

Notering: 180828, Sample, (FAN)