Om man av misstag råkar blanda ihop fat med Machir Bay och Port Matured Kilchoman kan det ju bli en enda röra – eller Am Bùrach ('the mess') som man skulle säga på det gaeliska språket.
Men tack vare denna lilla olyckshändelsen som skedde på destilleriet när man sjabblade med faten gjorde att man fick fram en helt ny begränsad whisky och 10550 st nya flaskor som senare kunde säljas…
"A true one-off, never to be repeated, Am Bùrach has a somewhat complicated nine year maturation, a vatting of bourbon and sherry matured Kilchoman combined with port cask matured in 2014, the whisky was then filled back in bourbon barrels for a further six years ahead a six month finish in ruby port casks."
(Detta är en bloggpost som bygger på en helt egen införskaffad sample-3a att kunna smaka på)
WHISKY:
Kilchoman Am Bùrach (2020 Release)
STYRKA:
46%
ÅR: 2020
ÅLDER: 9 yo
REGION:
Islay
TYP: Singlemalt
PRIS: 929 kr
DESTILLERI:
Kilchoman
SB-ART NR:
4078501
PRODUCENT:
Kilchoman
LEVERANTÖR:
Enjoy Wine & Spirits
ÖVRIG INFO:
Fattyp: bourbon, sherry, ruby port finish, Antal flaskor: 10550 st
Mina omdömen: Kilchoman Am Bùrach (2020 Release) Limited Edition 46%
DOFT: Första sniffen har en lätt vinös ton och en del gummi. Här finns även inslag av sköljmedel, lingon och apelsin. Längre bak nånting mera obestämt typ ljust trä och lite svag vanilj. Här anas också en del ljus sirap och marsipan. Tycker whiskyn överlag har en lätt röksyrlig doft pch där hela färgpaletten drar åt orangefärgad koppar.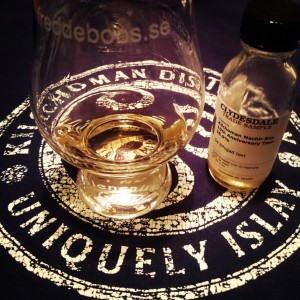 SMAK: Betydligt större rökkaraktär kommer fram i smaken. Lite askigt, lätt torra, ganska söta röktoner. Aprikos, citrus och torv ger liten fruktighet och där den underliggande beskan stöttar upp. Här finns också en lite söt vinös (sherry)ton som också smyger med och sätter avtryck. Njutbart!
ESMAK: Sötrökigt avslut som har en del röda vinbär, apelsin, vanilj och en något nu mera påtaglig beska i sig. Fram hittar här också lite mera pepprighet. Blir något ännu mera beskare med tid i glaset.
HELHET: En mycket trevlig whisky som har en del lätt vinösa tongångar av röda bär, lite tillbakahållen men men framväxande beska och som vilar på en stabil grund av Kilchoman-karaktäristisk mjuk, söt lätt askig rökighet med en liten gummiton i sig. Även fast det blev fel så blev det rätt och som så ofta med whisky ifrån Kilchoman och i min mun, helt underbart! 🙂
TOTALPOÄNG: 18,00 / 20,00


Notering: 200619, Sample (KPE)