Året festivalbuteljering ifrån High Coast-destilleriet i Bjärtrå kom som vanligt i en ganska strikt begränsad upplaga och där man pga. corona-smittan varit tvungen att ändra på hela upplägget lite grann med köprätter och där man istället släppte 1300 flaskor (50 cl) via Systembolagets tjänst för privatimport. Denna batchen innehåller 3 st bourbon barrels samt ett utvalt 200 liters fat av ny amerikansk ek.
(Missade själv denna men har lyckats vaska fram en sample-3a att kunna smaka på)
WHISKY:
High Coast – The Festival 2020 – 54,3%
STYRKA:
54,3%
ÅR: 2020
ÅLDER: +7 år
REGION:
Sverige
TYP: Singlemalt
PRIS: 995 kr (50 cl)
DESTILLERI:
High Coast
SB-ART NR:
–
PRODUCENT:
High Coast
LEVERANTÖR:
High Coast
ÖVRIG INFO:
Fattyp: Receptet till årets festivalbuteljering kommer från enbart orökigt (0 ppm) whisky som lagrats på bourbonfat och ny kolad amerikansk ek. Whiskyn är ej kylfiltrerad eller färgad. Antal flaskor tillgängliga: 1300 st
Mina omdömen: High Coast – The Festival 2020 – 54,3%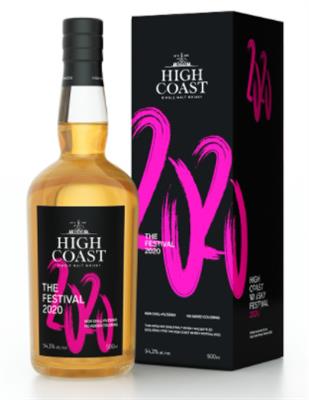 DOFT: Här finns en del träiga, träfatsinspirerande noter och där man även kan ana en del bourbon-aktighet med svaga vaniljinslag. Här finns också en ganska förhöjande maltig ton som har en svag spritighet i sig.
SMAK: Lite oljig i karaktären är det första jag noterar och där den ovattnad är rejält stark i munnen och där man lite grann känner av den höga alkoholen. (och där jag tror att denna direkt skulle må bra av att få i sig lite vatten, för att bättre komma till sin rätt). Tycker den blir något mera maltig i sin framtoning med vatten i sig och där även en del kryddighet växer fram emellan de något träiga smakerna. Riktigt trevlig faktisk.
ESMAK: Även en något torr och medelstark beskighet ligger och lurar i bakgrunden och som samspelar bra med de lätt söta bourbon/vanilj-inslagen. Man kan dock fortfarande ana lite av spritgheten. Med tid kan även en lättare kryddighet urskiljas och som ger lite mer karaktär.
HELHET: Tycker överlag att detta är en bra whisky med sin stabilt maltiga och lätt bourbon-nyanserade smak och som blommar ut lite mer med vatten. Tycker mig även kunna ana ett svagt uns rökighet i de bortre regionerna i denna whisky men där fenolhalten enligt dokumentationen och det detaljrika faktabladet som kan hittas hos destilleriet skall vara 0 ppm. Så är jag nog helt ute och cyklar här. (Kanske det kan vara en nyans av det nykolade ekfatet som jag får en känning av?)
TOTALPOÄNG: 15,50 / 20,00


Notering: 201005, Sample (TTO)
Bildkredit: (lånad bild) High Coast