[2:a Advent – AWC´s JULBOX 2015]
Förutom en blytung afton med Judas Priest-show i helgen så har det också under inledningen av veckan spenderats lite tid för avsmakning av sample "2:a Advent" ifrån AWC's JULBOX ~2015~. Ett litet minievent i form av ett halvt blindprov (vi vet sorterna men inte i vilka flaskor) och där varje deltagare privat avsmakar, gissar och sätter sitt enskilda betyg på 5 st olika whiskysorter under december månad.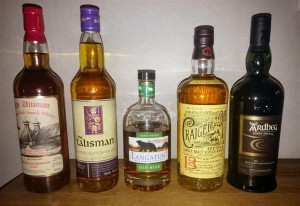 Whiskysorterna som ingår är följande:
# Bunnahabhain 2002 The Ultimate 11 y.o 46%
# The Talisman (blended) 40% (Scotland)
# Langatun Old Bear 40% 2008 3 y.o (Schweiz)
# Craigellachie 13 46% (Speyside)
# Ardbeg Corryvreckan 57,1% (Islay)
Alla rätta fem samplessvar kommer att presenteras här (och på AWC-sidan) i sin helhet efter jul/nyår…
 WHISKY:
 Craigellachie
 STYRKA:
 46%
 ÅR: –
 ÅLDER: 13
 REGION:
 Speyside
 TYP: Singlemalt
 PRIS: 399 kr
 DESTILLERI:
 –
 SB-ART NR: 
 488
 PRODUCENT:
 John Dewar & Sons Ltd
 LEVERANTÖR:
 Bacardi AB
 ÖVRIG INFO:

SORT: (Min gissning) 2:a Advent – The Talisman (fel!)
DOFT: 2.50 Väldigt lätt doft, nästan på gränsen till obefintlig. Den tunna strimma som ändå lyckas ta sig upp ur glaset är svagt maltspritig och har en mycket liten fruktig touch av söt aprikos, träspån, citron och lite aceton.
SMAK: 2.75 Oväntat kraftig smak däremot! Tyvärr är den ganska spritbetonad och inte fullt så angenäm. En del beskare inslag mot den senare delen och som ger en liten negativ karaktärsförändring. Fjäderlätta rökmoln skymtar i fjärran.
ESMAK: 2.50 Ganska kort och möjligen anas en pytteliten röknyans emellan de spritiga tongångarna. Den matchen vinns dock ganska klart av det sistnämnda som också är det mest kvarstående intrycket när den lyckligtvis tonar ut ganska fort.
HELHET: 2.75 Överlag en ganska spritbetonad smakresa utan nån större komplexitet, god whiskysmak eller skön elegans. På plussidan är (förmodligen) det lilla hålet i plånboken som den gör då jag gissar att denna inte är jättedyr.
Ev. kommentar: Ingen favorit för min del…
TOTALPOÄNG: 10,50 / 20.00 p

Notering: 151206