SMWS Sample Box No.1.
Då arbetsveckan åter har rullat igång igen så kommer det bli något förskjutna provningar och uppdateringar av den mycket spännande och roliga SMWS-boxen/Adventskalendern… Här kommer i alla fall min notering och gissning på den femte sampleflaskan! (Alla provas blint och där nummerdechiffreringen sker i efterhand)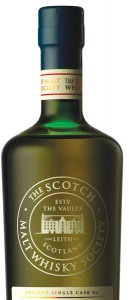 SMWS-SAMPLE #5:
Se tidigare: #1, #2, #3, #4,

118.3 Self-assured, buxom and rewarding
Ålder: 22 år
Alkoholhalt: 57,9 %
Fat: 2nd fill barrel
"The nose combines pleasant citrus, sweet treats (crème brülée, baklava) and enticing
umami savouriness – toasted coconut and charred oak come later. The palate is big and
tasty, buxom and self-assured – sherry, vanilla, crème caramel, star anise, fresh fig and
citrus."
 WHISKY:
 SMWS 118.3 "Self-assured, buxom and rewarding"
 STYRKA:
 57,9%
 ÅR: –
 ÅLDER: 22 y.o
 REGION:
 Irland
 TYP: Single Malt
 PRIS: ? kr
 DESTILLERI:
 Cooley
 SB-ART NR: 
 –
 PRODUCENT:
 Cooley
 LEVERANTÖR:
 SMWS
 ÖVRIG INFO:
 Sample #5, 2nd fill barrel
DOFT: 4,25 En underbar doft som påminner om sherry, mahogny, söta röda bär och så en klang som jag inte riktigt kan sätta fingret på. (vitt trälim?)
SMAK: 4.25 Genomgående och ganska kraftfull smak av sherrynyanserad vaniljkola, röda vinbär och så det svårplacerade, lite träinspirerade (ek?) inslaget. (kanske nån typ av vinfatslagring, typ madeira?) Härlig svagt "peated" nyans ackompanjerar fint och liksom breddar och förlänger smaken. Yummy!
ESMAK: 4.00 Långsamt avtagande smaker med lite stegrande kryddighet, röda vinbär, rosenvatten och konstläder. Ganska speciell men god smak man kan utforska länge.
HELHET: 4.25 En något udda men riktigt intressant och spännande smakkaraktär med en del svagt "peat-iga" inslag. Denna vill jag ha mera av! 😀
SORT: (min gissning) Kornog kanske?
Ev. kommentar: Ojojoj, inte en susning vart denna kommer ifrån faktiskt och inget jag tror att jag tidigare har smakat på. Väldigt karaktärsfull whisky med lite "peatig" touch i botten. Kul!
TOTALPOÄNG: 16,75 / 20.00 p

Notering: 151208 – SMWS Sample Box, Blindprov (FAN)