SMWS Sample Box No.1.
Gårdagens allra största behållning var tyvärr inte i whiskyn som fanns i sampleflaska nr 4 ifrån SMWS's för övrigt mycket trevliga och spännande whiskykalender. En samplebox innehållandes 25 st blandade 2 cl-flaskor med olika SMWS-utgåvor och som jag via whiskybloggen här på freddeboos.se har fått möjlighet att köpa.
Det blev istället Rob Halford och Judas Priest riktigt blytunga spelning på Löfbergs Arena som hela AWC-gänget var och kikade på i Karlstad. Dyngbra! Förbandet U.F.O gjorde också en stabil och sevärd spelning.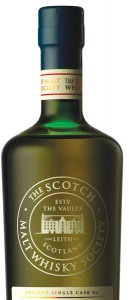 SMWS-SAMPLE #4:
Se tidigare: #1, #2, #3

9.83 Tiger Balm, Limoncello and scented candles
Ålder: 25 år
Alkoholhalt: 56,5 %
Fat: Refill butt
"The aromatic nose carries linseed oil, tiger balm, Limoncello, lime zest and scented candles
– water brings biscuits, coconut and hints of smoke. The palate combines peaches,
strawberries, ice-lolly sticks, macaroon bars and toffee with chilli, pepper, flower stems and
quinine."
WHISKY:
SMWS 9.83 "Tiger Balm, Limoncello and scented candles"
STYRKA:
56,5%
ÅR: –
ÅLDER: 25 y.o
REGION:
Speyside
TYP: Single Malt
PRIS: ? kr
DESTILLERI:
Glen Grant
SB-ART NR:
–
PRODUCENT:
Glen Grant
LEVERANTÖR:
SMWS
ÖVRIG INFO:
Sample #4, Refill butt
DOFT: 3.50 Ljust gyllengula droppar som sprider toner av mogen malt, höbalar och ett lite mera bitigt instick.
SMAK: 3.50 De ganska vilda 56,5 procenten tämjs ner med lite vatten och mera tid i glaset för att sedan släppa ifrån sig mera harmoniska och välstämda smaker. Det doftiga maltiga inslaget är forfarande ganska dominerande men där även en och annan höbal, lite citron, vax och ljusa frukter dyker upp.
ESMAK: 3,25 Avslutet är medellångt och liksom hela smakupplevelsen ganska rak i karaktären.
HELHET: 3,50 Maltiga undertoner blandas med lite mera bitiga nyanser, kakdeg, vax och lemonfrukter. Lite spritig och bör vattnas. Inte ett förstaval för min del.
SORT: (min gissning) Tror att jag återigen befinner mig på fastlandet (speyside/highlands nånstans) och där min gissning landar på Tomintoul.
Ev. kommentar: Med några fler tillgängliga centilitrar och lite experimenterande med vatten går det säkert att komma lite närmare och hitta den ultimata nivån och balansen i denna. Jag lyckas inte riktigt…
TOTALPOÄNG: 13,75 / 20.00 p

Notering: 151204 – SMWS Sample Box, Blindprov (FAN)