Ensam hemma, ledig och tre stycken nyinförskaffade samples av Box 2nd Step Collection. 01, 02, och 03! 😀
Självklart måste detta utnyttjas och speciellt då med tanke på min stora nyfikenhet på de båda sistnämnda (med sherry och rök) och som jag inte tidigare har fått känna på. 01:an är sedan tidigare avsmakad och betygsatt då jag haft en egen flaska hemma men givetvis blir det en omprovning av denna för att se om mitt tidigare betyg står fast.
Den som själv dricker whisky vet att smaksinnet kan förändras lite grann och där man kan få lite andra infallsvinklar beroende på ex. rumstemperatur, omgivning, vad man tidigare ätit, nivån i flaskan, dryckesverktyget (glaset) mängden droppar vatten, om man vattnar sin whisky osv osv.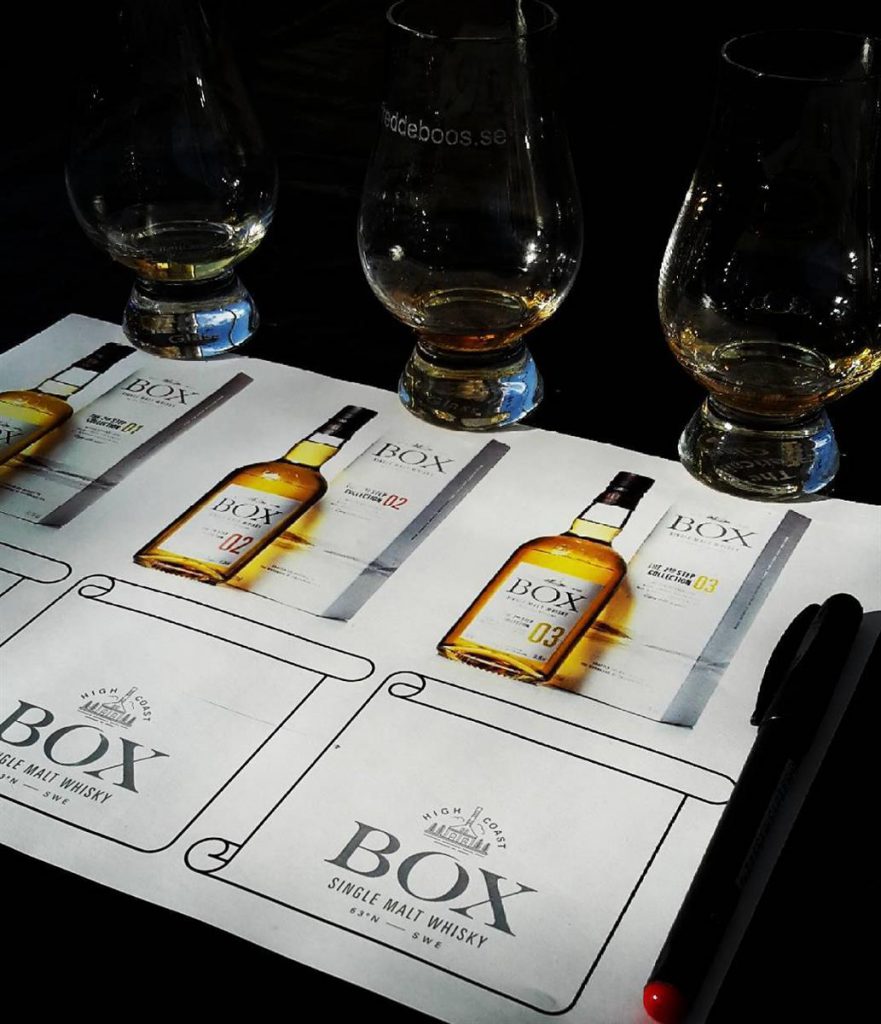 Min lilla egenkomponerade BOX-whisky-provning blir denna gången av helt öppen karaktär och där jag vet vilken av whiskysorterna som finns i varje respektive glas. (mängden som smakas är 3 cl).
För den som är intresserad och riktigt inbiten och verkligen vill veta allt om innehållet, fatinformationen, när hjärtat är skuret, fatstorlekar osv. rekommenderas definitivt att besöka sidan med den föredömligt och väl preciserade produktinformationen som BOX Whisky tillhandahåller kring alla sina flaskor. (Stor eloge för detta!)
Sorter i lineup'en:
BOX The 2nd Step Collection 01, 51,1%
BOX The 2nd Step Collection 02, 51,2%
BOX The 2nd Step Collection 03, 51,3%
WHISKY:
BOX The 2nd Step Collection 01
STYRKA:
51,1%
ÅR: 2016
ÅLDER: 4,16 år
REGION:
Sverige
TYP: Singel Malt
PRIS: 747 kr
DESTILLERI:
Box Destilleri
SB-ART NR:
40021
PRODUCENT:
Box Destilleri
LEVERANTÖR:
Box Destilleri
ÖVRIG INFO:
50 cl, Buteljerad februari 2016, 40, 43 och 45 ppm fenolhalt, 7880 st flaskor
Mina omdömen, betyg och kommentarer:
170427:
DOFT: Mjuka malttoner med kokade päron och lite maritima inslag. Lättare rökslingor i kulissen. Anar viss fruktighet.
SMAK: Smaken är ganska maltbetonad med ett lite råare träfatsinslag, vanilj och toner av gummi.
ESMAK: Eftersmaken är medellång och har en något lite beskare framtoning.
HELHET: Med vatten kommer mera päron fram och där jag tycker hela paletten blir lite kryddigare överlag och där rågummitonerna drar sig undan något. (föredrar den helst ovattnad)
Ev. kommentar: Hade för mig att denna var något mera rökbetonad än vad jag upplever denna whisky idag. (speciellt med tanke på att all ingående whisky enligt receptet skall vara rökig) Detta är bra men tror det finns ännu mer (rök) att ge här! 😀
TOTALPOÄNG: 15,00 / 20.00 p

---
160527:
Med bara ett fåtal flaskor och whiskyinlägg kvar till den magiska 500-gränsen(!!) så är det kul att här kunna få presentera ännu en svensk whisky och som dessutom är baserad på 100% ingående rökig whisky. The 2nd Step Collection 01 är varken kylfiltrerad eller färgjusterad och det är något som jag själv sätter stort värde på. (Uppskattar också all tillgänglig dokumentation som finns att inhämta via BOX Whisky-sidan! #tummen_upp)
DOFT: 4.00 Mycket inspirerande gummibaserad rökdoft (lite Ledaig-stuk?) som har en del medföljande päron och mjuk vanilj i sig. Får även en lite trevlig känning av Ajax-tvättmedel.
SMAK: 3.75 Inledningen är lite råare med ett litet aceton-stick innan de mera trivsamma röktonerna hinner ikapp. Gummi, päron och nånting lite mera fatbeskbeskbetonat som ligger i bakkanten. Gillar verkligen rökkaraktären i denna som har inslag av grå gymnastikgummimatta! Tål några droppar vatten.
ESMAK: 3.75 Rökbetonat avslut med en lite beskare klang, päron och mentol(?)
HELHET: 4,00 Lite ungdomliga tongångar över lag men ändå en ganska samlad trupp och där jag tycker själva rökigheten bjuder på den allra största behållningen. Smakmässigt finns det kanske lite mer att önska men som sagt, ett MYCKET intressant rökinslag som jag hoppas att man kan förvalta väl inför framtiden!!
Stort plus i kanten för all detaljrik info som kan fås via hemsidan. Bra jobbat! 😀
Ev. kommentar: Är personligen och överlag inte helt jätteförtjust i 50 cl-flaskor (hellre 70- och 35 cl-flaskor) och där även en tydlig åldersangivelse på förpackningen/flaskan finns med på min önskelista.
TOTALPOÄNG: 15,50 / 20.00 p