Ensam hemma, ledig och tre stycken nyinförskaffade samples av Box 2nd Step Collection. 01, 02, och 03! 😀
Självklart måste detta utnyttjas och speciellt då med tanke på min stora nyfikenhet på de båda sistnämnda (med sherry och rök) och som jag inte tidigare har fått känna på. 01:an är sedan tidigare avsmakad och betygsatt då jag haft en egen flaska hemma men givetvis blir det en omprovning av denna för att se om mitt tidigare betyg står fast.
Den som själv dricker whisky vet att smaksinnet kan förändras lite grann och där man kan få lite andra infallsvinklar beroende på ex. rumstemperatur, omgivning, vad man tidigare ätit, nivån i flaskan, dryckesverktyget (glaset) mängden droppar vatten, om man vattnar sin whisky osv osv.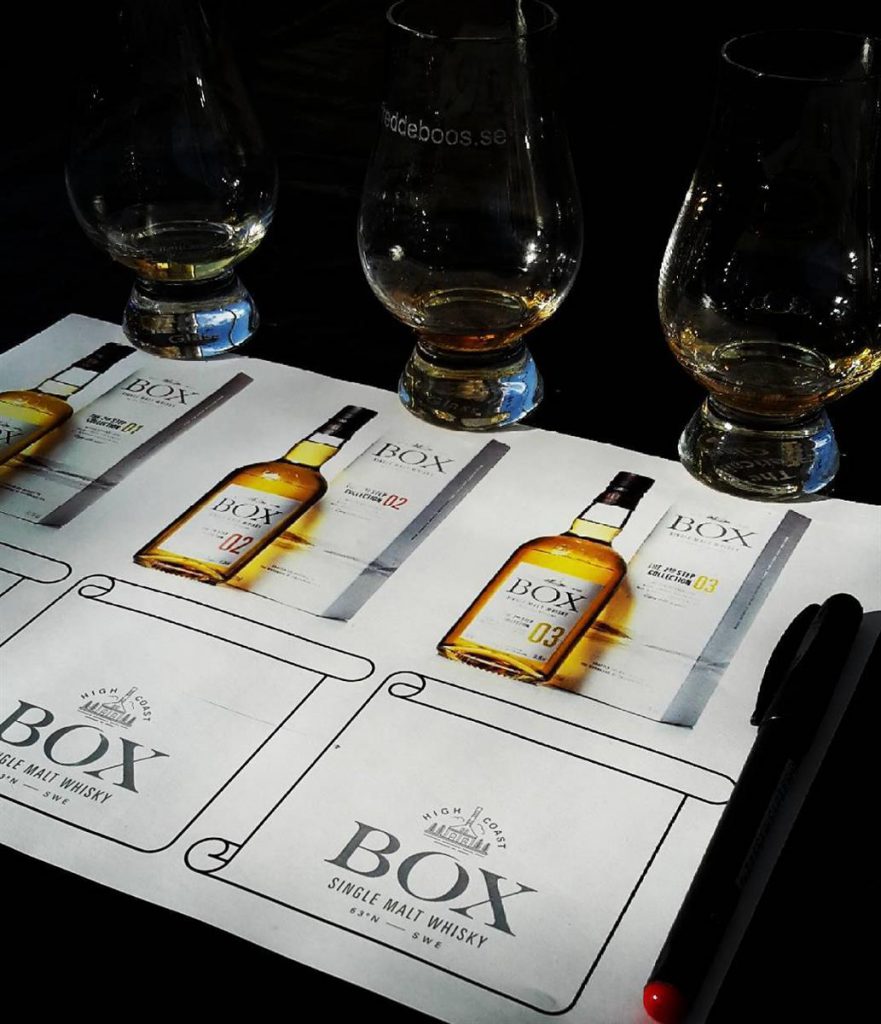 Min lilla egenkomponerade BOX-whisky-provning blir denna gången av helt öppen karaktär och där jag vet vilken av whiskysorterna som finns i varje respektive glas. (mängden som smakas är 3 cl).
För den som är intresserad och riktigt inbiten och verkligen vill veta allt om innehållet, fatinformationen, när hjärtat är skuret, fatstorlekar osv. rekommenderas definitivt att besöka sidan med den föredömligt och väl preciserade produktinformationen som BOX Whisky tillhandahåller kring alla sina flaskor. (Stor eloge för detta!)
Sorter i lineup'en:
BOX The 2nd Step Collection 01, 51,1%
BOX The 2nd Step Collection 02, 51,2%
BOX The 2nd Step Collection 03, 51,3%
WHISKY:
BOX The 2nd Step Collection 03
STYRKA:
51,3%
ÅR: 2017
ÅLDER: 5,5 år
REGION:
Sverige
TYP: Singel Malt
PRIS: 743 kr
DESTILLERI:
Box Destilleri
SB-ART NR:
91322
PRODUCENT:
Box Destilleri
LEVERANTÖR:
Box Destilleri
ÖVRIG INFO:
8291 btl, Fenolhalt: 0 och 31,39,43 och 45 ppm. Snitt 38,6 ppm (malt)
Mina omdömen, betyg och kommentarer:
DOFT: En ganska träfatsinspirerad doft inledningsvis som också släpper fram mjuka slingor av rök och en liten association av tvål(?) och gummi.
SMAK: Smaken är betydligt rökigare än vad doften skvallrar om och har en liten asktorr underton. Inte så mycket "skortensinsida" utan mera åt cigarettröks-hållet.
ESMAK: Lite händelselös om jag skall vara helt ärlig… (och med det menar jag att jag saknar de ifrån svalget långsamt uppkommande och mullrande rökdimmorna som riktigt biter sig fast i gommen)
HELHET: En ganska stabil och bra whisky men där jag saknar lite av rökigheten. Tycker den blir något lite för fadd med vatten i och hoppar nog det nästa gång om vi åter mötas…
Ev kommentar: Tycker att röksmaken påminner lite grann om rökigheten man kan känna på whisky ifrån Ledaig och som har en liten underton av gummi.
TOTALPOÄNG: 15,50 / 20.00 p