Från GlenAllachie och Master Distiller Billy Walker kommer numera Lum Reek, en åldersangiven 12-årig blended-whisky av sammangifta Islay & Speyside whiskies som skapats av torvrökt malt och där även whisky ifrån GlenAllachie-destilleriet har ingått för att öka på och förfina smakerna. 'Lang may yer lum reek', som bokstavligen betyder 'så länge din skorsten ryker', är för övrigt ett traditionellt skotsk sätt att önska någon ett långt och hälsosamt liv. ??
"Introducing the first age range statement from MacNair's, the Lum Reek 12 years old, bottled at 46% ABV, reflects Billy Walker's vast experience as a blender, his creative skills and his expert knowledge of wood management. A combination of whiskies from first fill Bourbon, Red Wine and Pedro Ximenez casks were blended together to produce this smoky malt."

Till Sverige kommer denna whisky via whiskyimportören och buteljerarfirman Selected Malts, ett whiskyföretag som startades (2015) av Mikael Westerberg och Patrik Barkevall som varit generösa och bjudit freddeboos.se-bloggen på ett litet provsmak. För den som är ev. är sugen att läsa på mer om just GlenAllachie och deras drygt 50-åriga historia som whiskydestilleriet har så kan denna artikel av whiskymagasinet Allt om Whisky rekommenderas!
WHISKY:
MacNair's Lum Reek
STYRKA:
46%
ÅR: 2019
ÅLDER: 12 y.o
REGION:
Scotland
TYP: Blended
PRIS: 778 kr
DESTILLERI:
MacNair's
SB-ART NR:
80141
PRODUCENT:
Glenallachie
LEVERANTÖR:
Selected Malts
ÖVRIG INFO:
Ex-Bourbon, Sherry Finish, Pedro Ximenez, unchilfiltered, natural colour
Mina omdömen: MacNair's Lum Reek (blended) 12 y.o
DOFT: God bourbon-vanilj-aktig inledning med en del underliggande träffatsnyanser, smörblommor och honung. Här finns också nånting torvrökigt, som väcker intresset hos en "peatlover" som mig. Det är inte en jättebrutal eller speciellt kraftfull rökighet utan en doft som jag skulle säga är trevligt balanserad och upplyftande.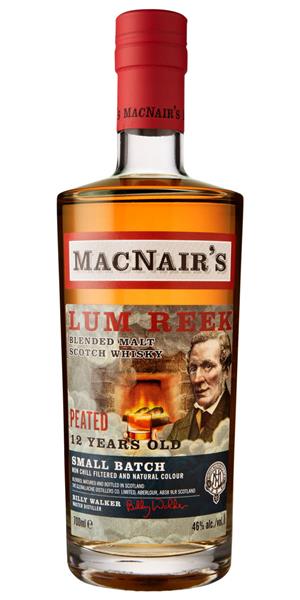 SMAK: Spannmål och hö är de två första smaknoterna som kommer upp för min del tillsammans med ekträ. Svag vanilj, lite kryddighet och lätt, ganska torr rök i den bakre regionen växer fram och där även smaken upplevs som bra balanserad och ganska mjuk, trots sina 46%. Inte mycket sherryinslag att tala om.
ESMAK: En lätt smörig, eknyanserad kryddig ton avslutar och där en del medellätta rökslöjor drar förbi. Sherryinslaget tycker jag fortfarande lyser med sin frånvaro… Ganska torrt avslut.
HELHET: En balanserad, god och lätt rökig blendedwhisky i "mellanrök"-registret som ligger väl i munnen. Tycker kanske att den saknar nånting att "komma ihåg och hänga upp den på" men att det ändå är en god smakupplevelse med lätt besktorra inslag.
Ev. kommentar: För övrigt intressant och kul att få se en åldersangiven blendedwhisky med hög styrka och som inte har vattnats ned till minimum bara för att kunna sälja fler flaskor… Fast å andra sidan är den ju inte gratis heller. ("De' en förlor'er på karusell'n, får en' ta in på gung'era… – som min arbetskamrat Svempa skulle ha sagt på bred degerförsk'a") ?
TOTALPOÄNG: 14,00 / 20,00


Notering: 191008, sample/varuprov, Selected Malts