"Höstboxen – 2020" heter det senaste whiskyprojektet i regi av Amnehärad´s Whisky Club där två stycken olika whiskys har samplats upp till en liten provsmakningsbox för medlemmar och andra inbjudna att enskilt och privat kunna njuta av och frivilligt betygsätta via whiskyklubbens hemsida. (Intervall och möjlighet till svarsinlämning under hela September. Total sammanställning av poäng och omdömen presenteras sedan i efterhand på klubbhemsidan)
En av de två ingående sorterna (á 5 cl vardera) som finns med i denna lilla samples-boxen ifrån AWC är en whisky ifrån Cotswolds i England och som ligger några mil strax utanför London. Detta är en Peated Cask-buteljering (batch 01/2019) där antalet buteljerade flaskor har uppgetts till 2950 st.
"Cotswolds Singel Malt Whisky Peated Cask is hand-crafted in small batches using 100% floor-malted local barley. Long fermentations and double pot distillation, followed by maturation in ex-peated Quarter Casks creates a wonderfully-balanced whisky with subtle notes of peat smoke, perfectly complementing our rich fruity Cotswolds spirit."
WHISKY:
Cotswolds Single Malt Peated Cask
STYRKA:
59,3%
ÅR: 2019
ÅLDER: NAS
REGION:
England
TYP: Singlemalt
PRIS: 889 kr
DESTILLERI:
Cotswold
SB-ART NR:
82402
PRODUCENT:
Cotswold
LEVERANTÖR:
Clydesdale AB
ÖVRIG INFO:
# of btl 2950 (batch 01/2019)
Mina omdömen: Cotswolds Single Malt Peated Cask (batch 01/2019) 59,3%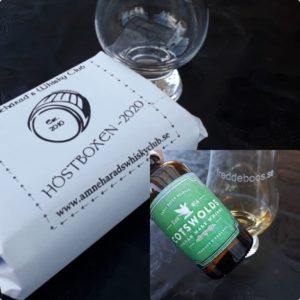 DOFT: Ganska maltbaserad doft med inslag av torv, päron, spannmål, aprikos, sågat trä och torrt gräs. Här finns även nånting lite friskt och mentholaktigt i de bakre regionerna.
SMAK: Inledningsvis finns det en del ljusa och lite lätt spritiga tongångar där det åter är torv, spannmål och torkat gräs som ligger långt fram tillsammans med en hel del träfatsinslag och nyanser av sågat trä. Hittar inte så mycket av den förväntad rökigheten.
ESMAK: Ljus torving maltighet med en hel del torrare träfatsinslag.
HELHET: Sågat trä, torv, spannmål, hö och ljus maltighet är de stora smakbärarna i denna lätt spritiga whisky som även har en del torrbeska inslag i sig. Det är inte dåligt men inte heller helt övertygande. Lite rå bitvis kan jag tycka och där nån försiktig droppe vatten kan mjuka upp den lite.
TOTALPOÄNG: 13,75 / 20,00


Notering: 200906, AWC – "Höstboxen – 2020"