SMWS Sample Box No.1.
Följ med på min smakresa i SMWS-whiskyns förlovande land där jag under december månad skall försöka hinna med att provsmaka de 25 st olika och omärkta blindprovs-samplesflaskorna som finns i denna härliga box (adventskalender) och som kommer ifrån den svenska avdelningen av The Scotch Malt Whisky Society.
(öppna och se samplebox-filmen här)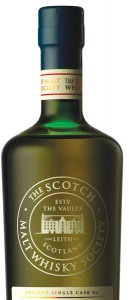 SMWS-SAMPLE #2:
Se tidigare: #1,
66.35 Savoury smoke and spicy sweetness
Ålder: 9 år
Alkoholhalt: 58,2%
Fat: Refill sherry Butt
"The nose combines savoury smoke and spiced sweetness – bacon frazzles, aniseed, clove,
fruit and nuts – and lots of barbecued stuff (spiced pork, prawns, bananas). The massive
palate has intense smoke, tar, treacle and cough medicine, honey-glazed ham and liquorice
allsorts."
WHISKY:
66.35 Savoury smoke and spicy sweetness
STYRKA:
58,2%
ÅR: –
ÅLDER: 9 y.o
REGION:
Highlands
TYP: Single Malt
PRIS: ? kr
DESTILLERI:
Ardmore
SB-ART NR:
–
PRODUCENT:
Ardmore
LEVERANTÖR:
SMWS
ÖVRIG INFO:
Sample #2, Refill sherry Butt
DOFT: 4.25 Färgmässigt så ligger den riktigt högt upp i betygsskalan. Helt underbar! Stoppar man näsan i den får man dessutom också uppleva en härlig doftkavalkad där plommonsaft, bränt socker, smör, kola, aprikos, dadlar och läder varvas omvartannat. Krämigt doftrik och riktigt nice! Har även en markerad rökighet som kompletterar mycket bra.
SMAK: 4.50 Shit, detta var en härlig överraskning då smaken är betydligt rökigare än vad doften skvallrat om. Aww… I smaken bjuds man på en del maritima inslag, tjära, lite nötighet, kola, lädersoffa och mörka bär. Ett par (välbehövliga) droppar vatten späder ut och öppnar upp för mera kryddighet. Tilltagande strävt läderskärp. Mums!
ESMAK: 4.25 Även lite mera smörighet kommer fram med vatten. Den mellanlätta rökigheten är skönt kvardröjande och gillas skarpt. Gott, gott! Tankarna går åt hållet utspädd dadelmarmelad med svagt smörig krämighet… Plus charkuteri-rök)
HELHET: 4.50 Totalt sett en mycket angenäm whisky som också är en riktig fröjd för ögat. Outspädd är den rejält kraftfull och förvandlas till en riktig sugkaramell med lite vatten i. Påfyllning? Ja, tack!!
SORT: (min gissning) Tror inte på en Islay trots de goda rökinslagen (möjligen kanske Bowmore) utan chansar (baserat på vissa doftlikheter) istället på att det är en rökig Mortlach!?
Ev. kommentar: Rekommenderas! 😛
TOTALPOÄNG: 17,50 / 20.00 p

Notering: 151203 – SMWS Sample Box, Blindprov (FAN)