SMWS Sample Box No.1.
Den 6:e flaskan ut ifrån SMWS-boxen/Adventskalendern känns vid första sippen något mera ungdomligare än de föregående som har smakats och där gissningsvis ett bourbon-fat kan ha använts… (Alla dessa 2-cl-samples provas blint och där nummerdechiffreringen sker i efterhand)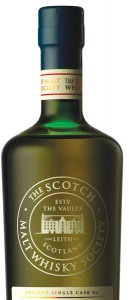 SMWS-SAMPLE #6:
Se tidigare: #1, #2, #3, #4, #5
1.182 Aromatic and enigmatic
Ålder: 11 år
Alkoholhalt: 57,1 %
Fat: 1st fill barrel
"Fresh, bright and attractive – the nose gives citrus, peach, sherbet straws, crème caramel
and flower meadows; also deeper notes of varnished wood and leather. The palate is
enigmatic and surprisingly perfumed, with orange fondant, lemon bonbons, vanilla sponge
and floral cosmetics."
 WHISKY:
 SMWS 1.182 "Aromatic and enigmatic"
 STYRKA:
 57,1%
 ÅR: –
 ÅLDER: 11 y.o
 REGION:
 Speyside
 TYP: Single Malt
 PRIS: ? kr
 DESTILLERI:
 Glenfarclas
 SB-ART NR: 
 –
 BUTELJERARE:
 Glenfarclas
 LEVERANTÖR:
 SMWS
 ÖVRIG INFO:
 Sample #6, 1st fill barrel
DOFT: 3.50 Inledningsvis lite stickig doft (ovattnad) som drar lite åt grapefrukt, söt persika, lite ingefära och typ ahlgrens bilar. Hintar av lemoncurd i botten…
SMAK: 3.50 Utan vatten ganska spritnyanserad smak som inte övertygar helt. Några droppar vatten lockar fram goda vaniljaromer, lite apelsinmarmelad, lätt kola, träfatstoner (bourbon) och ett litet vitpepparstick.
ESMAK: 3.25 Medellångt avslut med kryddig ton av vitpeppar och lite sträva inslag. Här bjuds man också på liten beskare ton mot slutet. Lite bitig och ungdomlig karaktär och där jag skulle vilja ha lite mera av de mera maltiga inslagen. 
HELHET: 3.25 Lite för spritig och onyanserad för att framkalla några större glädjetjut hos mig. Blir något bättre och mera tilltalande efter vattning. Älskar dock de mycket sega whiskylegsen som biter sig fast på glaset.
SORT: (min gissning) Tror detta kan vara en kombo av bourbon-fat och ett Speyside-destilleri. Mannochmore?
Ev. kommentar: Helt ok men inget jag springer benen av mig för att smaka på igen. Snudd på vardagswhisky.
TOTALPOÄNG: 14,00 / 20.00 p

Notering: 151210 – SMWS Sample Box, Blindprov (FAN)