SMWS Sample Box No.1.
Följ med på min smakresa i SMWS-whiskyns förlovande land där jag under december månad skall försöka hinna med att provsmaka de 25 st olika och omärkta blindprovs-samplesflaskorna som finns i denna härliga box (adventskalender) och som kommer ifrån den svenska avdelningen av The Scotch Malt Whisky Society.
(öppna och se samplebox-filmen här)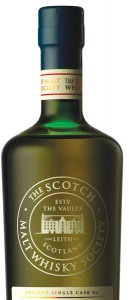 SMWS-SAMPLE #3:
Se tidigare: #1, #2

72.31 Something Old, Something New
Ålder: 29 år
Alkoholhalt: 48,3 %
Fat: Refill sherry Butt
"A combination of lots of 'new' and 'old' aromas; a very old dusty leather bound library
book in a new shiny cover and the lively spiciness of paprika powder. With water hazelnut
oil, figs and dried cherries and in the taste a Peshwari naan bread with mango chutney."
WHISKY:
72.31 Something Old, Something New
STYRKA:
48,3%
ÅR: –
ÅLDER: 29 y.o
REGION:
Speyside
TYP: Single Malt
PRIS: ? kr
DESTILLERI:
Miltonduff
SB-ART NR:
–
PRODUCENT:
Miltonduff
LEVERANTÖR:
SMWS
ÖVRIG INFO:
Sample #3, Refill sherry Butt
DOFT: 4.00 Lätt honungsfärgad till utseendet och med en ganska ljusgul nyans och med sega whiskylegs. Doftmässigt drar det först till lite i näsan och man anar halminslag, kokade päron, spannmål och lite sötma. Lite grötig, lågmäld, elegant och ganska stillsam doft.
SMAK: 4.00 Lite annorlunda och ganska kryddig inledning och med en del ljusare tongångar samtidigt som en mörkare och något dovare smak ligger på lur i bakgrunden. Blöta, sågade träplankor, halm och sockerkaka(?) Lite småseg i konsistensen och med en del sötma. Upplever smaken äldre än doften.
ESMAK: 3.50 Kokade ljusa frukter, vitpeppar och sockersötma. Blir lite pepprig på fram på tungspetsen.
HELHET: 3.75 En ganska svårdefinerad whisky med både lågmälda och en del ljusare tongångar. Tappar mycket smak med vatten. God men ingen kioskvältare.
SORT: (min gissning) Tror detta kan handla om ett något mindre omtalat destilleri från det skotska fastlandets övre eller mellanliggande del som dock inte börjar på Glen… utan kanske Aultmore?
Ev. kommentar: God men inte riktigt min typ av whisky som jag trånar allra helst efter…
TOTALPOÄNG: 15,25 / 20.00 p

Notering: 151203 – SMWS Sample Box, Blindprov (FAN)