SMWS Sample Box No.1.
Den mycket spännande smakresan fortsätter och där jag fått chansen att prova 25 st olika samples via SMWS-boxen/Adventskalendern. En box med ett urval av flaskor från diverse släpp ur det mycket breda SMWS-sortimentet. Den svenska avdelningen av Scotch Malt Whisky Society kan man kontakta för medlemsskap och komma åt via SMWS Sweden. Denna internationella whiskyklubbens huvudsida hittas på SMWS. (Alla dessa 2-cl-samples provas blint och där nummerdechiffrering sker i efterhand)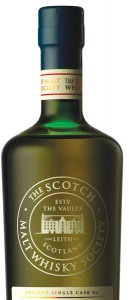 SMWS-SAMPLE #10:
Se tidigare: #1, #2, #3, #4, #5, #6, #7, #8, #9
26.107 Zippy and attractive
Ålder: 10 år
Alkoholhalt: 57 %
Fat: 1st fill barrel
"The young, zesty nose sports lemon, lime and rhubarb, cherry menthol, lemongrass and
Frutella chews, plus random hints of allotments and old libraries. The palate is sweet but
tart – soor plooms, pear-drops, lemon sherbet, astro belts. Water takes any harshness
away."
 WHISKY:
 26.107 Zippy and attractive
 STYRKA:
 57%
 ÅR: –
 ÅLDER: 10 y.o
 REGION:
 North Highlands
 TYP: Single Malt
 PRIS: ? kr
 DESTILLERI:
 Clynelish
 SB-ART NR: 
 –
 BUTELJERARE:
 Clynelish
 LEVERANTÖR:
 SMWS Sweden
 ÖVRIG INFO:
 Sample #10, 1st fill barrel
DOFT: 4.00 Först möts man av lite maltjäsiga toner som har inslag av ljus bröd, päron, aprikos, citron och grå wellpapp. Det finns även en lite råare ton i denna som man kan få jobba lite med för att acceptera och komma överens med. Jag gillar det!
SMAK: 4.25 De lite tuffare nyanserna är inte fullt så framstående i smaken (även om de finns där). Sötma, gula plommon, aprikos, citrontea är några av smakerna jag lyckas sortera ut ifrån denna ganska smakrika whisky. En whisky av troligtvis lite yngre årgång.
ESMAK: 4.00 Mer söt än besk och inte direkt sträv i avslutet. Dock finns en lite mera spretigare karaktär här som kan behöva rundas av med lite vatten för att kunna prestera sitt bästa.
HELHET: 4.00 En whisky som spretar lite grann och som ropar högljutt ifrån de bakre publikraderna. Jag gillar de olika nyanserna och de lite råare inslagen i denna whisky!
SORT: (Min gissning) Tror jag är ute på lite djupare vatten och en bit ifrån fastlandet… Highland Park?
Ev. kommentar: Ajdå, mina felgissningar står just nu som spön i backen… Shape up!! 😀 😉
TOTALPOÄNG: 16,25 / 20.00 p

Notering: 151214 – SMWS Sample Box, Blindprov (FAN)