För nån vecka släpptes en singelcask-buteljering ifrån Kilchoman-destilleriet som är buteljerad i en upplaga av endast 261 flaskor totalt och är avsedd för Sverige endast och där jag hade lyckan att lyckas nypa en flaska.
Detta är en caskstrength-whisky som har spenderat sin huvudsakliga 5-åriga tid (4/8-2011 till 15/8-2016) på ett bourbon-fat och där slutlagringen har skett i 5 månader på ett PX-fat och där spriten är baserad på ett 50-ppm-recept. Gissa om mina förhoppningar är stora!!
 WHISKY:
 Kilchoman Pedro Ximénez Finish Single Cask
 STYRKA:
 57,2%
 ÅR: 2016
 ÅLDER: 5 y.o
 REGION:
 Islay
 TYP: Singlemalt
 PRIS: 999 kr
 DESTILLERI:
 Kilchoman
 SB-ART NR: 
 20264
 PRODUCENT:
 Kilchoman
 LEVERANTÖR:
 Enjoy Wine & Spirits AB
 ÖVRIG INFO:
 PX Finish, Fat #450/2011, (156 of 261 btl)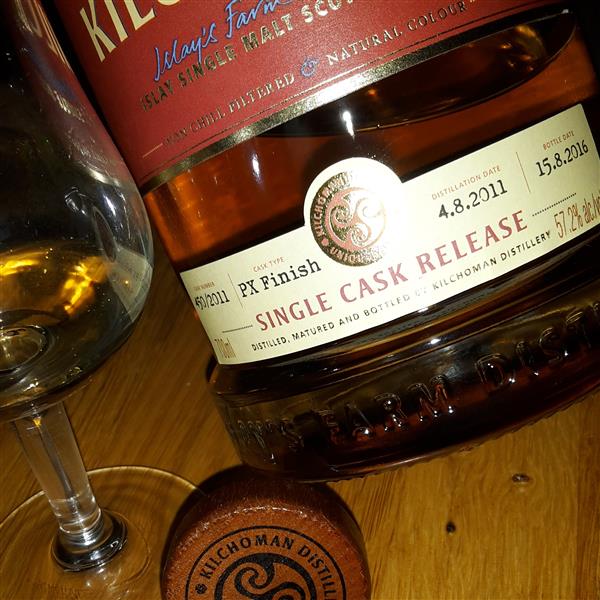 DOFT: 4.50 En helt underbar näsa där de sötrökiga torvinslagen bara väller fram! Den tjärade ekan, saltstänket ifrån havet, ostronskalen, maltsötman och den lite sträva sherrytouchen finns där också. Även liten ton av målarfärg. PX-inslaget ger en mycket trevlig karaktär!!!
SMAK: 4.50 Mmmm, mmm, MMMMMM!!!! Detta är så bra! Riktigt jäkla bra!! De sega whiskylegsen klamrar sig fast länge och bildar djupa fåror när de långsamt drar sig tillbaks och där rökmaken är kraftfull men balanseras fint upp mot de lite sötsträva russintonerna, de mörka bären, lätt citrus och den söta vaniljen. Den höga fenolhalten (ca 50 ppm) ger hela smakupplevelse en rejäl skjuts framåt (och långt ner i den mörka strupen!!) och där man bara kan häpna vilka fantastiska smaker som går att få fram ur kornet och med hjälp av torven och de tonsättande faten.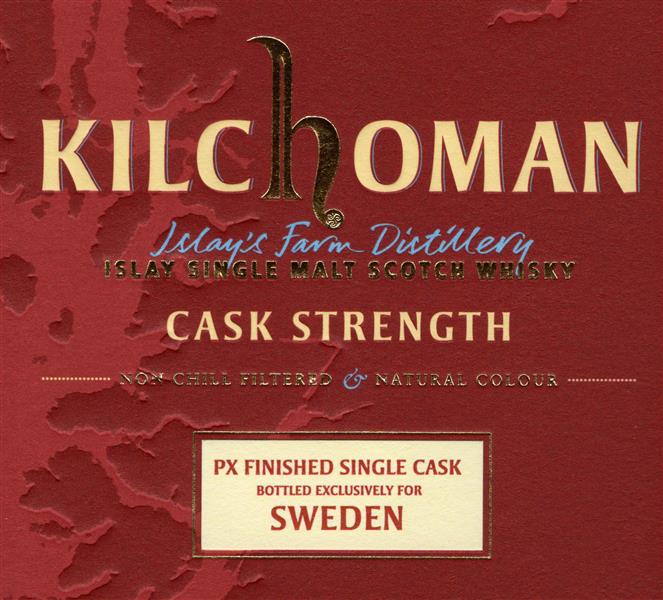 ESMAK: 4,50 Efterdyningarna av de söta russinen, skorstensaskan och förnimmelsen av den saltindränkta tjärade ekan med det blöta och tångingrodda hamparepet på botten av båten, rullar runt i munnen och ger en lång och värmande ton i både gom och hals. Läääänge!!! 
HELHET: 4,75 Fatstyrkestark whisky när den är som allra bäst! …och där jag har svårt att sätta fingret på vad som egentligen fattas för full poängpott. Lite mer rök i doften och kanske är det möjligen den lite omogna nyansen som skiner igenom lite grann och målarfärginslaget i smaken som sätter stopp. Å andra sidan är det ju detta som skapar den där omisskänneliga Kilchoman-känslan som alla vi peatlovers älskar så otroligt mycket!!
Kilchoman + 50 ppm = Äkta kärlek!!
Ev. kommentar: #selfnote – Stop bothering looking at other shitty whiskys to buy… this is the REAL DEAL!! 
TOTALPOÄNG: 18,25 / 20.00 p