SMWS Sample Box No.1.
SMWS-boxen/Adventskalendern ifrån förra året 2015 och SMWS Sweden börjar nu närma sig sitt slut och där flaska/lucka nr. 20 står för dörren… (haha, ja jag vet att jag är lite sent ute men har i alla fall som mål att försöka hinna bli klar med alla samples innan årets jul 2016 🙂 ) Som vanligt smakas dessa helt blint och där även ett försök på gissning av destilleriet anges innan dechiffrering av det rätta samplessvaret görs.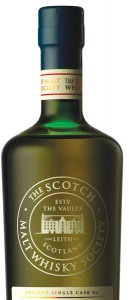 SMWS-SAMPLE #19:
Se tidigare: #1, #2, #3, #4, #5, #6, #7, #8, #9, #10, #11, #12, #13, #14, #15, #16, #17, #18, #19
39.100 Exotic contradictions
Ålder: 23 år
Alkoholhalt: 57,1 %
Fat: Refill hogshead
"The nose is shyly exotic – Turkish Delight, coffee liqueur, apricot yoghurt, honey and
tangerines; leather, teak and Victory V's arrive with water. The palate's sweet side (raisins,
marzipan, caramel wafer, chocolate orange) is balanced by earth, wood, spice and fruity
astringency."
WHISKY:
SMWS 39.100 "Exotic contradictions"
STYRKA:
57,1%
ÅR: –
ÅLDER: 23 y.o
REGION:
Speyside
TYP: Single Malt
PRIS: ? kr
DESTILLERI:
Linkwood
SB-ART NR:
–
BUTELJERARE:
SMWS
LEVERANTÖR:
SMWS
ÖVRIG INFO:
Sample #20, Fat: Refill hogshead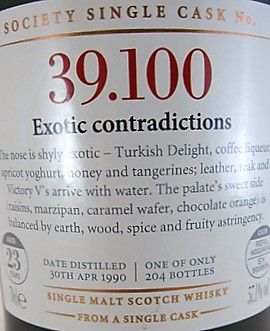 SORT: (min gissning – FEL!) Auchentoshan
DOFT: 3,75 Mycket fräsch doft med lite banan och exotiska tuttifrutti-toner. Maltsötma och lite grapefrukt. Efter en tid i glaset utvecklas liten doft av målarfärg.
SMAK: 3,00 Beska ingångstoner tillsammans med mera peppriga (chili/kummin) ekfatsinslag. Ökande grapefruktbeska med liten metallisk eftersmak. Inte alls lika god som den doftade!
ESMAK: 2,75 Lite för besk eftersmak för att tilltala mig fullt ut och med en liten spritnyans dyker upp mot slutet.
HELHET: 3,00 Betydligt bättre doft än smak och där den påtagliga beskan inte helt övertygar mina smaklökar.
Ev. kommentar: Doften håller hög klass och är riktigt god men detta är inte riktigt en whiskykaraktär jag längtar efter att smaka på igen… En liten besvikelse.
TOTALPOÄNG: 12,50 / 20.00 p

Notering: 161103 – SMWS Sample Box, Blindprov (FAN)