SMWS Sample Box No.1.
Dags för ännu ett blindprov ur SMWS-boxen/Adventskalendern ifrån SMWS Sweden och där turordningen nu har kommit fram till sample #17. I vanlig ordning provar jag dessa småflaskor blint och där jag sedan lägger mitt personliga betyg och försöker gissa på tillverkningsdestilleriet innan själva dechiffreringen görs. 🙂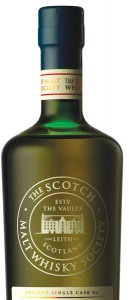 SMWS-SAMPLE #17:
Se tidigare: #1, #2, #3, #4, #5, #6, #7, #8, #9, #10, #11, #12, #13, #14, #15, #16
77.31 White chocolate smeared on oak
Ålder: 9 år
Alkoholhalt: 61,9 %
Fat: Refill hogshead
"Bright and attractive – the nose offers fudge, vanilla, white chocolate on oak and apple pie;
pear and lemon appear with water. The palate has flapjack, brown sugar and fondant
sweetness, some refreshing sharp fruits and warm spices – all tickled by fingers of oak"
WHISKY:
SMWS 77.31 "White chocolate smeared on oak"
STYRKA:
61,9%
ÅR: –
ÅLDER: 9 y.o
REGION:
Highland
TYP: Single Malt
PRIS: ? kr
DESTILLERI:
Glen Ord
SB-ART NR:
–
BUTELJERARE:
Glen Ord
LEVERANTÖR:
SMWS
ÖVRIG INFO:
Sample #17, Fat: Refill hogshead
SORT: (Min gissning:) Här går min tankar ganska snart åt Speyside/Highland-hållet. Får dock ingen direkt eller igenkännande aha-upplevelse att detta kan vara nått jag har smakat på tidigare. En ganska rak och stabil whisky. Det får bli en ren och skär chansning och där jag tror att whiskyn kommer ifrån Balblair!
DOFT: 4.00 Halmfärgad whisky med ganska tjock och fyllig doft. Vanilj, bourbonfat och spannmål ligger långt fram.
SMAK: 4.00 Ovattnad kommer direkt en liten marmeladisk ton fram som inte fanns i doften. Även lite citrusfrukt kan anas. Med några droppar vatten och mera tid i glaset upplevs en något sötare nyans. (av aprikos möjligen?).
ESMAK: 3.50 Ganska rak, förhållandevis rund (orökig) avslutning. Söt vanilj, halm, aprikos och liten ekfatston.
HELHET: 3,75 Detta är en whisky som jag tycker vinner rätt så mycket på några droppar vatten då en mera rundare ton tar form och lite mera sötma växer fram. Ganska små och snabba whiskylegs kan också tilläggas.
Ev. kommentar: Återigen ute och cyklar med min gissning men ändå i förhållandevis rätt område, vilket väl ändå får anses som ett litet plus i kanten iaf. 😉
TOTALPOÄNG: 15,25 / 20.00 p

Notering: 160610 – SMWS Sample Box, Blindprov (FAN)