SMWS Sample Box No.1.
SMWS-boxen/Adventskalendern bjöd på en riktigt trevlig överraskning och ögonbrynshöjare i sampleflaska nr. 7 och som slog mig med häpnad då det visade sig vara en grain-whisky. En whiskykategori som för egen del hittills är ganska outforskad… (Alla dessa 2-cl-samples provas blint och där dechiffreringen sker i efterhand)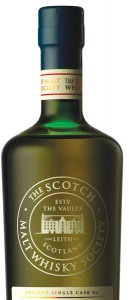 SMWS-SAMPLE #7:
Se tidigare: #1, #2, #3, #4, #5, #6
G1.11 Iced mulled wine and Sorrento Limoncello
Ålder: 21 år
Alkoholhalt: 65,1%
Fat: Refill butt
"This one is for you if you have a sweet tooth, Bourbon vanilla buttercream and toffee apple
sponge pudding on the nose and Scotch pancakes neat. With the addition of water;
orange cream fondant, tablet and caramelised sugar as well as some zest and spice."
WHISKY:
G1.11 "Iced mulled wine and Sorrento Limoncello"
STYRKA:
65,1%
ÅR: –
ÅLDER: 21 y.o
REGION:
Scotland
TYP: Grain
PRIS: ? kr
DESTILLERI:
North British
SB-ART NR:
–
BUTELJERARE:
North British
LEVERANTÖR:
SMWS
ÖVRIG INFO:
Sample #7, Refill butt, Grain
DOFT: 4.25 Näsan möter en mycket behaglig och mogen, lite julinspirerad doft med inslag av kanderade äpplen, fruktkaka, kolavanilj, apelsinskal och sherryinslag. Ganska alkoholstarkt och mycket fräscht.
SMAK: 4.25 Utan vatten en ganska brutal upplevelse då procenten gissningsvis ligger bortåt 60%. Härligt och kul med väl tilltagen cask strenght-styrka! Russin, plommon och andra mörka bär är de främsta smakbärarna i denna mycket trevliga utgåva som med nån tesked vatten utvecklar sig till en underbar, njuta-av-länge-whisky med flera nivåer att utforska.
ESMAK: 4.00 Eftersmaken är medellång och med en del kvardröjande och sherrynyanserade godbitar. Karamelliserat socker och sirapstoner.
HELHET: 4.25 Mycket trevlig whisky! Kola, kanderade äpplen, julkaka, almondonöt och vanilj i en härlig kompott. Bör vattnas… Rekommenderas!
SORT: (min gissning) Riktigt bra sprit och åter ganska svårgissat… Chansar på Tomatin?
Ev. kommentar: Efter att ha fått facit presenterat så är jag mäkta imponerad. Jaha, dags att vidga sina vyer och börja shoppa grain-whisky nu då också! 😀 😛
TOTALPOÄNG: 16,75 / 20.00 p

Notering: 151212 – SMWS Sample Box, Blindprov (FAN)