SMWS Sample Box No.1.
Så har halva innehållet i SMWS-boxen/Adventskalendern avsmakats och där det nu blivit dags att ge sig på sampleflaska nr 13 ifrån detta för övrigt mycket trevliga projekt ifrån den svenska avdelningen SMWS Sweden.
(Alla dessa 2-cl-samples provas blint och där dechiffreringen sker i efterhand)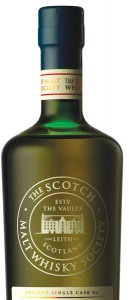 SMWS-SAMPLE #13:
Se tidigare: #1, #2, #3, #4, #5, #6, #7, #8, #9, #10, #11, #12
48.47 Style of the 70's
Ålder: 11 år
Alkoholhalt: 56,7 %
Fat: 1st fill barrel
"Poached rhubarb and peaches in syrup with white chocolate and creamy cheesecake. The
first sip sizzled like John Travolta on the dance floor. Tinned pears, vanilla pods and melon
balls with sherbet. In the finish, tarpaulin and chewed pencils."
WHISKY:
48.47 "Style of the 70's" 11 yo 56,7%
STYRKA:
56,7%
ÅR: –
ÅLDER: 11 y.o
REGION:
Speyside
TYP: Single Malt
PRIS: ? kr
DESTILLERI:
Balmenach
SB-ART NR:
–
BUTELJERARE:
Balmenach
LEVERANTÖR:
SMWS
ÖVRIG INFO:
Sample #13, 1st fill barrel
DOFT: 3.50 Lite gulsåpa, tea, hö och päronkräm. Lite speciell doft med drag av sköljmedel.
SMAK: 3.25 Citrusolja, bivax, viss fruktighet. Granskott(:)) apelsinmarmelad. Svårplacerad! Söt vanilj växer fram med tid. Kanske lite honung också? Nej, vänta… är det banan? Lite friskhet i smaken. Övertygar inte helt.
ESMAK: 3.00 Söta päron, vaniljkräm och torkat hö. Kort till medellång. Mot slutet kommer lite av av den där besktorra känslan när man bitit i ett bananskal.
HELHET: 3.25 En tidskrävande whisky med trevliga, om än lite speciella ingångstoner som bildar en ganska halvtorr smak med lite sötare instick. Tyvärr lyckas den ändå inte få mig på kroken helt. De små och ganska snabba whiskylegsen på glaskanten kan möjligen skvallra om en whisky med inte alltför många år på nacken…
SORT: (min gissning) Smakmässigt ges antydan av Speyside och där mitt slutval och absoluta chansgissning landar på att denna whisky kommer ifrån Glenlivet som ibland har en del päronsmak i sig!
Ev. kommentar: Med facit i hand så var inte min gissning helt oäven då Glenlivet och det rätta svaret Balmenach i stort sett är grannar och ligger ganska nära varandra. Detta är för övrigt min första whisky ifrån detta destilleriet.
TOTALPOÄNG: 13,00 / 20.00 p

Notering: 160201 – SMWS Sample Box, Blindprov (FAN)