SMWS Sample Box No.1.
Den något gråare vardagen har nu åter inträtt och där man får leta lite andra ljuspunkter än julfirande och annat och där SMWS-boxen/Adventskalendern kan vara en inspirerande källa att söka ur. (Alla dessa 2-cl-samples provas blint och där dechiffrering sker i efterhand)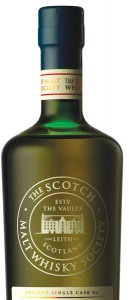 SMWS-SAMPLE #12:
Se tidigare: #1, #2, #3, #4, #5, #6, #7, #8, #9, #10, #11
30.74 Sweet, fruity and rich
Ålder: 11 år
Alkoholhalt: 60,3 %
Fat: Refill Port Pipe
"The fruity nose (raisins in fruit cake, strawberry jam, toffee apples, bananas) also has candy
floss, crème brûlée, syrupy pancakes and Muscat wine. The delightful palate offers plum
jam, syrupy figs, Peshwari naan, Armagnac, raspberry tart, date slice, peaches and sherbet."
WHISKY:
30.74 "Sweet, fruity and rich"
STYRKA:
60,3%
ÅR: –
ÅLDER: 11 y.o
REGION:
Speyside
TYP: Single Malt
PRIS: ? kr
DESTILLERI:
Glenrothes
SB-ART NR:
–
BUTELJERARE:
Glenrothes
LEVERANTÖR:
SMWS
ÖVRIG INFO:
Sample #12, Refill Port Pipe
DOFT: 3,75 Lite så där gött nice krämaktig konsistens i glaset och där ganska kraftfulla dofter av mörka bär, fruktkaka, aprikos, russin blandas. Finns också en svag antydan av skölj/tvättmedel nånstans där i mellanregistret. Gott!
SMAK: 4,25 Ovattnad är den rejält stark, tjock och med en del spritiga inslag som slår ner och kontrollerar de mjukare inslagen något. Med vatten kommer en mycket angenäm och mera rund smak fram och där både fruktkakan, plommonen och den söta malten skapar ett mycket trevligt avtryck
ESMAK: 4,00 Ganska rak och okomplicerad och i stort sett en förlängning av föregående smakintryck och som har en god avrundning. Lite kvarhängade kryddinslag.
HELHET: 4,00 Denna mår bäst med några droppar vatten och som vinner på tiden den får i glaset. En lite simmig smakkänsla som överlag är ganska rund och har en fyllig smak. Rejält med sötma!
SORT: (min gissning) Oj, här är jag ute på hal is igen då jag inte har en susning mer än att detta är bra och nånting säger mig att ett destilleri ifrån Speyside kan vara en rimlig gissning… Frågan är bara vilket? 😀 (Glenrothes fanns inte med i mitt förstaval kan jag ärligt avslöja)
TOTALPOÄNG: 16,50 / 20.00 p

Notering: 160110 – SMWS Sample Box, Blindprov (FAN)