SMWS Sample Box No.1.
Smakresan och den lilla följetongen jag smakar och presenterar samples ur den mycket trevliga SMWS-boxen/Adventskalendern fortsätter och där vi nu har kommit fram till flaska nr 11. (Alla dessa 2-cl-samples provas blint och där nummerdechiffrering sker i efterhand)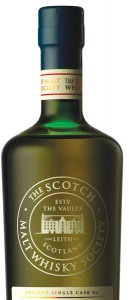 SMWS-SAMPLE #11:
Se tidigare: #1, #2, #3, #4, #5, #6, #7, #8, #9, #10, #11
G12.1 "Oh so sweet"
Ålder: 11 år
Alkoholhalt: 58,9%
Fat: Re-charred hogshead
"Aromas of apple purée and coconut milk with a fresh oak backbone. Musky notes floated
along while rich, dark and heady sugar grew stronger. Powerful vanilla and banana sang
out whilst a curious coconut and peach smoothie was whizzed up in the background."
WHISKY:
G12.1 "Oh so sweet" 58,9%
STYRKA:
58,9%
ÅR: –
ÅLDER: 11 y.o
REGION:
Japan
TYP: Single Malt
PRIS: ? kr
DESTILLERI:
Nikka
SB-ART NR:
–
PRODUCENT:
Nikka
LEVERANTÖR:
SMWS Sweden
ÖVRIG INFO:
Sample #11, Re-charred hogshead
DOFT: 4.00 Gyllene droppar med toner av gammalt trä, choklad, hasselnötter.
SMAK: 4.25 Underbar, lite mörkare tränyanser med inslag av mjuk vanilj. Ganska söt. Vattnad släpper den ifrån sig mera fruktsmak. Banan(?) Tycker även chokladsmaken blir tydligare (samt lite mera "grain-aktig")
ESMAK: 4.00 Strax över medellånga och med en hel del sötma, runda vaniljtoner och ett lite krämigt, medellångt avslut.
HELHET: 4.00 en whisky med härligt söta nyanser att gotta ner sig i och med stor komplexitet och flera underliggande lager.
SORT: Skulle detta vara en grainwhisky vilket jag tror det finns chans att det är så vore det ren tur om jag lyckas pricka in det rätta destilleriet… Kan detta måhända vara en skapelse ifrån Invergordon?
Ev. kommentar: Detta var ju inte dumt alls… Kanske dags att börja speja efter fler grainwhiskys! 😉
TOTALPOÄNG: 16,25 / 20.00 p

Notering: 160103 – SMWS Sample Box, Blindprov (FAN)