SMWS Sample Box No.1.
Den spännande smakresan där jag provar blindsamples ur SMWS-boxen/Adventskalendern fortsätter och där turen nu har kommit till samplesflaska nr 14. Ett för övrigt mycket trevligt och uppskattat box-projekt i regi av SMWS Sweden. (Alla dessa 2-cl-samples provas blint av mig och där dechiffreringen sker i efterhand)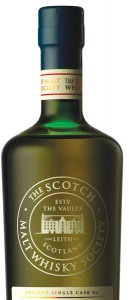 SMWS-SAMPLE #14:
Se tidigare: #1, #2, #3, #4, #5, #6, #7, #8, #9, #10, #11, #12, #13
120.7 Sweet, fragrant and satisfying
Ålder: 14 år
Alkoholhalt: 55,5 %
Fat: 1st fill bota corta
"The nose carries fragrant blossom and Pedro Ximinez as well as sweet rolling
tobacco. Espresso with lots of brown sugar was replaced by coffee cream dark
chocolates. To taste, we found kirsch cocktails with burnt orange skin, caraway seeds and
teriyaki glaze. "It has everything!"
 WHISKY:
 SMWS 120.7 "Sweet, fragrant and satisfying"
 STYRKA:
 55,5%
 ÅR: 1999
 ÅLDER: 14 y.o
 REGION:
 Japan
 TYP: Single Malt
 PRIS: ? kr
 DESTILLERI:
 Hakushu
 SB-ART NR: 
 –
 BUTELJERARE:
 Hakushu
 LEVERANTÖR:
 SMWS
 ÖVRIG INFO:
 Sample #14, 1st fill bota corta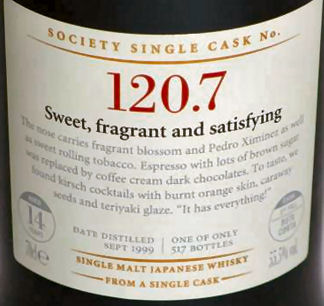 DOFT: 4.25 Otroligt mörk sherry/mahogny/kola-färgad whisky som släpper ifrån sig sköna tongångar av dadlar, fikon och en hel del sötma. (Gissningsvis kan det vara frågan om ett och annat oloroso-fat inblandat här och första tankarna går åt Glendronach-hållet)
SMAK: 4.50 Första sippen ovattnad är kraftfull och har lite krämig känsla över sig och där plommonsötma breder ut sig. Två droppar vatten och lite mer tid i glaset ger belöning (och poänghöjning) även på doften. Djup, rund, mjuk sherrysmak, lite vanilj, gräddkola, choklad och torrare fikon. Magnefik!
ESMAK: 4.25 Den avslutande delen går lite mera åt det (sherry)torrare hållet och kvarlämnar lite av det mörka plommonskalet att suga vidare på… Liten beska har också tillkommit.
HELHET: 4.25 En underbart sherrybaserad whisky som levererar med både god och välavvägd (toffe)sötma kontra de lite torrare inslagen. Mjuk och fyllig. Den här gillar jag! Och vilket utseende sen.
SORT: (min gissning) Tror fortfarande på att Glendronach kan ligga bakom denna skapelse… Alternativt kan kanske typ Yamasaki-destilleriet vara ett långskott. 
Ev. kommentar: Detta visade sig slutligen vara en japanare när facit presenterades för mig! En härlig whisky och riktigt kul att få stifta bekantskap med! Denna får gärna ta plats på min whiskyhylla, ja det är nästan att den kvalar in bara på den otrolikt läckra färgen! 😀
TOTALPOÄNG: 17,25 / 20.00 p

Notering: 160228 – SMWS Sample Box, Blindprov (FAN)