SMWS Sample Box No.1.
SMWS-boxen/Adventskalendern ifrån SMWS Sweden fortsätter att bjuda smaklökarna på härliga åkturer och där där det nu blivit dags att smaka och gissa ursprunget på samplesflaska nr 15 (Alla dessa 2-cl-samples provas blint och där dechiffreringen sker i efterhand)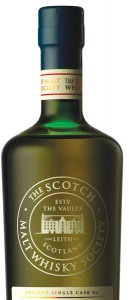 SMWS-SAMPLE #15:
Se tidigare: #1, #2, #3, #4, #5, #6, #7, #8, #9, #10, #11, #12, #13, #14
121.76 "Close shave from a tipsy barber" 
Ålder: 12 år
Alkoholhalt: 57,9 %
Fat: Refill barrel
"The nose evoked a barbershop (leather, after-shave, band-aids, blades) – then beeswax,
dried flowers and gin; caramel and marzipan later. The palate was herbal (absinthe,
Chartreuse) with chocolate fudge cake, liquorice allsorts (from an engineer's pocket) and
some citric fizz."
 WHISKY:
 SMWS 121.76 "Close shave from a tipsy barber"
 STYRKA:
 57,9%
 ÅR: –
 ÅLDER: 12 y.o
 REGION:
 Isle of Arran
 TYP: Single Malt
 PRIS: ? kr
 DESTILLERI:
 Arran
 SB-ART NR: 
 –
 BUTELJERARE:
 Arran
 LEVERANTÖR:
 SMWS
 ÖVRIG INFO:
 Sample #15, Refill barrel
DOFT: 3.25 Svagt blommig aprikos, grapefrukt, menthol, träspång. Litet aceton-stick långt bak.
SMAK: 2.50 Ovattnad känns denna ganska spritig, ung och rå. Färskt trä, marsipan och en del beska inslag. Nej, denna lyfter inte riktigt fullt ut för mig.
ESMAK: 2.50 Ett par droppar vatten rundar av grapefruktsbeskan något och den känns inte fullt så spritig. Tyvärr orkar inte smakerna fylla ut ändå. Lite träig.
HELHET: 2.50 Nja, detta föll inte mej i smaken riktigt. Träflis, lätt aprikoston, lite mynta och betydande beska. Lite "bourbon-stuk"…
SORT: (min gissning)  Som vanligt är en gissning på ursprungsdestilleri inte helt lätt och tycker inte det känns att direkt ligga nära nånting som jag tidigare smakat… Skjuter ifrån höften och drar till med Auchentochan.
Ev. kommentar: Nej tack, denna var inget för mig.
TOTALPOÄNG: 10,75 / 20.00 p

Notering: 160307 – SMWS Sample Box, Blindprov (FAN)