SMWS Sample Box No.1.
Dags att korka upp och smaka på den näst sista flaskan ur SMWS-boxen/Adventskalendern som SMWS Sweden hade sätt samman lagom till advent 2015. En blandad samplebox med tjugofem olika SMWS-whiskys i storleken 2 cl per flaska. (provsmakningen har jag som vanligt kört som ett blindprov och där dechiffrering av det rätta svaret har gjorts i efterhand.)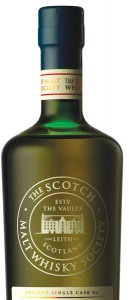 SMWS-SAMPLE #24:
Se tidigare: #1, #2, #3, #4, #5, #6, #7, #8, #9, #10, #11, #12, #13, #14, #15, #16, #17, #18, #19, #20, #21, #22, #23
5.29 Freesias crushed by an escaping car
Ålder: 11 år
Alkoholhalt: 60,6 %
Fat: 2nd fill Hogshead
"Battenburg cake (sponge, peach jam and marzipan) to start, with Alpen dust; a soft
texture, with strawberry jam, elderflowers and sugared almonds. Water introduces
momentary exhaust fumes, with perfumed freesias; the taste is now nutty, with chocolate."
WHISKY:
SMWS 5.29 "Freesias crushed by an escaping car"
STYRKA:
60,6%
ÅR: –
ÅLDER: 11 y.o
REGION:
Lowland
TYP: Single Malt
PRIS: ? kr
DESTILLERI:
Auchentoshan
SB-ART NR:
–
BUTELJERARE:
SMWS
LEVERANTÖR:
SMWS
ÖVRIG INFO:
Sample #24, Fat: 2nd fill Hogshead

SORT: (min gissning – RÄTT!) Auchentoshan?
DOFT: 3.25 Marsipanfylld doft med liten touch av spritig aceton och ekfatsbeska. Kokade päron, malt och aprikos hittas i bakgrunden.
SMAK: 3.25 Ovattnad en REJÄL käftsmäll av besk spritighet… på gränsen till odrickbar. Efter en väl tilltagen vattning och mer tid i glaset så mjukar den upp sig avsevärt och släpper fram en god maltighet som har lite marsipan i sig. Fortfarande framträder en hel del beskare toner. Ganska rå, ljus (och orökig) whisky karaktär. Här finns det plats att behöva laborera lite med antalet tillsatta vattendroppar för att försöka kunna finna och hitta den perfekta brytpunkten på denna ganska starka whisky.
ESMAK: 2.75 Ganska fylligt avslut med en del efterföljande beska. Efter vattning kommer lite mera sötma fram men den är ändå ganska händelselös.
HELHET: 3.00 En ganska rå, spritig och marsipaninspirerad whisky överlag och som ovattnad inte riktigt går hem hos mig. Med mera vatten i blir den betydligt mjukare och lite mera njutningsfull. Når dock inga högre höjder hos mig.
Ev. kommentar: Ingen större favorit i min mun. (Kul ändå att lyckas gissa rätt på ursprungs-destilleri!)
Notering: 170117 – SMWS Sample Box, Blindprov (FAN)