SMWS Sample Box No.1.
Dagarna rullar på och med några återstående samplesflaskor i SMWS-boxen/Adventskalendern ifrån förra året och SMWS Sweden så börjar det bli dags att lägga på ett kol om jag skall hinna innan årets jul är här. (I vanlig ordning sker provsmakningen som ett blindprov och där dechiffrering av det rätta svaret görs i efterhand.)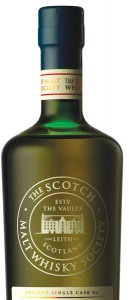 SMWS-SAMPLE #21:
Se tidigare: #1, #2, #3, #4, #5, #6, #7, #8, #9, #10, #11, #12, #13, #14, #15, #16, #17, #18, #19, #20
3.240 Kippers in a coal sack
Ålder: 16 år
Alkoholhalt: 59,8 %
Fat: Refill barrel
"The nose evokes old wine vaults and antique bookshops, but also has Deep Heat and
Fisherman's Friends, crispy seaweed and rock-pools. The palate has kippers in a coal sack,
embers, charred scallops, heathery herbal notes and lime, passion-fruit and gewürztraminer."
WHISKY:
SMWS 3.240 "Kippers in a coal sack"
STYRKA:
59,8%
ÅR: –
ÅLDER: 16 y.o
REGION:
Islay
TYP: Single Malt
PRIS: ? kr
DESTILLERI:
Bowmore
SB-ART NR:
–
BUTELJERARE:
SMWS
LEVERANTÖR:
SMWS
ÖVRIG INFO:
Sample #21, Fat: Refill barrel
SORT: (min gissning – FEL!) Inte en susning – kanske en Glenturret?
DOFT: Fräsch, lite speyside-aktig(?) doft och där själva fatinslaget utgör en betydande del tillsammans med lite mogna päron, söt malt, aprikos och nygräddad sockerkaka.
SMAK: Med några droppar vatten tonas de lite spritighet inslagen ned och där mera maltighet kommer fram. Där finns också en något mera svårbedömd ton av något mera blommigt/fruktigt/växtligt som jag inte kan sätta ord på(:)). En ok whisky som jag upplever lite tråkig.
ESMAK: Medellångt avslut med lite smak höjande kryddighet. Mer söt än besk men med lite torrare karaktär mot slutet.
HELHET: En helt ok whisky men som tyvärr inte fastnar i minnet nån längre stund…
Ev. kommentar: En Islay-whisky ifrån Bowmore? Det hade jag aldrig kunnat tro.
TOTALPOÄNG: 13,25 / 20.00 p

Notering: 161124 – SMWS Sample Box, Blindprov (FAN)