SMWS Sample Box No.1.
Det börjar nu ta lite på flaskorna i SMWS-boxen/Adventskalendern ifrån SMWS Sweden och där turen nu har kommit till nr. 19 och där jag i vanlig ordning smakar av, betygsätter och gissar på sorten innan dechiffrering av det rätta samplessvaret görs. Kul, lärorikt och väldigt spännade!!! 🙂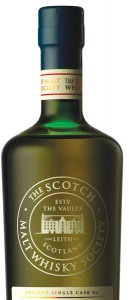 SMWS-SAMPLE #19:
Se tidigare: #1, #2, #3, #4, #5, #6, #7, #8, #9, #10, #11, #12, #13, #14, #15, #16, #17, #18
7.92 Set the juice loose!
Ålder: 20 år
Alkoholhalt: 53,5 %
Fat: Refill hogshead
"Complex nose neat; polished floor boards, dusty dry hay, raspberry tea and crystallised
oranges. The taste sweet and syrupy like Maynards wine gums. With water alpine fresh,
lemon and lime sorbet and the flavour of dry bitter oak and ginger spice, but sweet and
juicy in the finish."
WHISKY:
SMWS 7.92 "Set the juice loose!"
STYRKA:
53,4%
ÅR: –
ÅLDER: 20 y.o
REGION:
Speyside
TYP: Single Malt
PRIS: ? kr
DESTILLERI:
Longmorn
SB-ART NR:
–
BUTELJERARE:
SMWS
LEVERANTÖR:
SMWS
ÖVRIG INFO:
Sample #19, Fat: Refill hogshead
SORT: (min gissning – FEL!) Benromach
DOFT: 3,75 Halmfärgad whisky med lite tropiska(?) inslag i doften. Aprikos och tuttifrutti och torkat gräs. Längre bak lite mera övermogen apelsin.
SMAK: 3.50 Ovattnad är den ganska kraftfull i smaken och lite "grain-ig". Kornmalt och halm och en del sötma som bryter av och går åt det mera fatbeska hållet. Lite vatten rundar som vanligt av kanterna men tycker att den tappar lite för mycket av det goda och blir lite intetsägande.
ESMAK: 3.50 Fruktigt söta nyanser som avstannar och släpper fram mera torrbeska. Ganska kort eftersmak.
HELHET: 3.50 God inledning som inte riktigt håller i sig hela vägen. Föredrar de lite sötare nyanserna framför de torrbeskare inslagen som för tankarna på bourbonwhisky och som kommer fram mera i avslutet.

Ev. kommentar: När jag i efterhand fick läsa det rätta svaret och såg smakbeskrivningen på etiketten ifrån SMWS så föll bitarna på plats… Vingummi!! Precis! Det var smaken jag inte riktigt kunde hitta och beskriva (speciellt i doften) och kan bara hålla med till fullo! 🙂
TOTALPOÄNG: 14,25 / 20.00 p

Notering: 161005 – SMWS Sample Box, Blindprov (FAN)