SMWS Sample Box No.1.
Snart är det åter Adventstider igen och där jag redan under förra året kunde börja ta del utav godsakerna i den spännande SMWS-boxen/Adventskalendern ifrån SMWS Sweden. Jag har nu kommit fram till flaska nr. 18 och där jag smakar och först försöker gissa blint på själva ursprungsdestilleriet innan dechiffrering görs.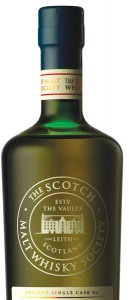 SMWS-SAMPLE #18:
Se tidigare: #1, #2, #3, #4, #5, #6, #7, #8, #9, #10, #11, #12, #13, #14, #15, #16, #17
4.196 Boozy brunch
Ålder: 14 år
Alkoholhalt: 55,9 %
Fat: 1st fill barrel
"Aromas of toast, croissant, strawberry jam, runny honey and sweet milky tea. The taste is
that of black pudding, sliced ham, bacon and egg. Water adds a fresh herbal note and
flavours of crispy seaweed, salted caramels and grapefruit juice."
WHISKY:
SMWS 4.196 "Boozy brunch"
STYRKA:
55,9%
ÅR: –
ÅLDER: 14 y.o
REGION:
Orkney
TYP: Single Malt
PRIS: ? kr
DESTILLERI:
Highland Park
SB-ART NR:
–
BUTELJERARE:
SMWS
LEVERANTÖR:
SMWS
ÖVRIG INFO:
Sample #18, Fat: 1st fill barrel
SORT: (min gissning – FEL!) Glenrothes
DOFT: 3,50 En ganska maltig doft med ekfatsinslag, tea, honung och söt halm. Ovattnad liten spritig ton.
SMAK: 3.50 Här kommer lite beskare toner direkt fram i sällskap av nysågat trä. Den söta maltigheten trycks tillbaka något för att ge efter för det något mera beska och bitigare.
ESMAK: 3.25 Ännu lite mera sötbeska tongångar avrundar den för övrigt medellånga och lite träiga eftersmaken.
HELHET: 3.25 En ganska träbesk historia som har en del sköna inslag av söta och torkade frukter. Lite vass bitvis och med något besk smak som inte övertalar mig helt.
Ev. kommentar: Gillar doften bäst!
TOTALPOÄNG: 13,50 / 20.00 p

Notering: 160905 – SMWS Sample Box, Blindprov (FAN)