SMWS Sample Box No.1.
Det börjar ta så sakteliga på samplesflaskorna i den spännande SMWS-boxen/Adventskalendern som jag fick chansen att ta del av ifrån förra året och som SMWS Sweden har gjort. (I vanlig ordning sker provsmakningen som ett blindprov och där dechiffrering av det rätta svaret görs i efterhand.)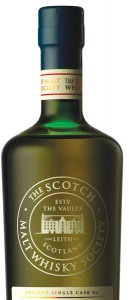 SMWS-SAMPLE #23:
Se tidigare: #1, #2, #3, #4, #5, #6, #7, #8, #9, #10, #11, #12, #13, #14, #15, #16, #17, #18, #19, #20, #21, #22
55.23 Chow mein on a workbench
Ålder: 20 år
Alkoholhalt: 55,1 %
Fat: Refill hogshead
"The nose has cut grass, pineapple and citrus – but also toasted oak, pistachio, nutmeg,
burnt eucalyptus, engineers' workbenches and chow mein. The intense palate has anise,
liquorice allsorts, oily nuts and pepper – sweet and savoury with salty seaside and
medicinal suggestions."
WHISKY:
SMWS 55.23 "Chow mein on a workbench"
STYRKA:
55,1%
ÅR: –
ÅLDER: 20 y.o
REGION:
Highland
TYP: Single Malt
PRIS: ? kr
DESTILLERI:
Royal Brackla
SB-ART NR:
–
BUTELJERARE:
SMWS
LEVERANTÖR:
SMWS
ÖVRIG INFO:
Sample #23, Fat: Refill hogshead

SORT: (min gissning – FEL!) Miltonduff?
DOFT: 3.00 Nygräddad sockerkaka, kokat äppelmos och nyslaget gräs. Svag aprikos kanske? Ganska doftlös whisky som man får leta lite efter. (Å andra sidan inget direkt otäckt som sticker ut heller…)
SMAK: 3.00 Maltnyanserad rund smak med inslag av söt fruktkompott i botten (skalade och kokade päron och äpplen). En trivsam men lite för ljummen whisky som inte släpper loss riktigt. (jag får lite speyside-aningar ifrån smaken)
ESMAK: 2.50 Inte heller avslutet är nån direkt smakförhöjare och känns knappt snäppet bättre än avslaget diskvatten… Några droppar rent vatten hjälper upp den föga.
HELHET: 2.50 En tråkig whisky ifrån början till slut. Lite äpplemosig smakkaraktär som bjuder på liten maltighet och lättare fatinslag…
Ev. kommentar: Inte riktigt min melodi.
TOTALPOÄNG: 11,00 / 20.00 p

Notering: 161206 – SMWS Sample Box, Blindprov (FAN)