SMWS Sample Box No.1.
Det som började med 25 stycken olika blandade blindsamples i en SMWS-box/Adventskalender som SMWS Sweden sätt samman lagom till advent 2015 har nu kommit fram till den sista flaskan… (provsmakningen körs som vanligt som ett blindprov och där dechiffrering av det rätta svaret har gjorts i efterhand.)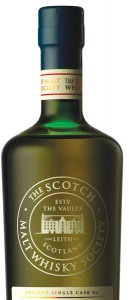 SMWS-SAMPLE #25:
Se tidigare: #1, #2, #3, #4, #5, #6, #7, #8, #9, #10, #11, #12, #13, #14, #15, #16, #17, #18, #19, #20, #21, #22, #23, #24
76.119 'On Christmas day in the morning!'
Ålder: 18 år
Alkoholhalt: 56,7 %
Fat: Refill butt
"Christmas childhood memories of spiced orange, eggnog, sugar puffs and hot chocolate
sprinkled with nutmeg. Still in pyjamas, they dipped into their stockings finding cranberries
and Hubba Bubba gum. Homemade dolls house tingled with ras el hanout spiciness and
pomanders."
WHISKY:
SMWS 76.119 'On Christmas day in the morning!'
STYRKA:
56,7%
ÅR: –
ÅLDER: 18 y.o
REGION:
Speyside
TYP: Single Malt
PRIS: ? kr
DESTILLERI:
Mortlach
SB-ART NR:
–
BUTELJERARE:
SMWS
LEVERANTÖR:
SMWS
ÖVRIG INFO:
Sample #25, Fat: Refill butt

SORT: (min gissning – FEL!) Cragganmore?
DOFT: 3.75 Blommig, honungsfylld doft med stort inslag av söt, mjuk maltighet och lite eukalyptus(?). Lite Speyside-aktig whisky utan nån större rökighet i doftaromerna. Fräsch!
SMAK: 4.00 Smaken bjuder på mer mynta/menthol-inspirerande smaker med hög sötma och god krispighet. Man kan ana en lite beskare (och god) underton ju närmare avslutet man kommer.
ESMAK: 3.75 Ett ganska kort men smakfullt avslut som har en del efterföljande beska i sig och lite pepparfrukt. (Chili?) Den breda maltsötman är fortfarande närvarande.
HELHET: 4.00 En rund, mjuk whisky som är ganska kraftfull och har breda aromer och där en hel del blommig fruktighet hjälper till att föra fram dessa smaker. Tål några droppar vatten.
Ev. kommentar: Denna dricks gärna igen! 🙂
Notering: 170216 – SMWS Sample Box, Blindprov (FAN)