Hejhopp och God Fortsättning på Er alla mina whiskybloggbesökare!! (…och förbaskat kul att ha Er här❣)
Många smakade whiskys blir det, 89 st this far under året och som bekant och som vanligt är det inte alltid så lätt att säga vilken whisky som är bäst eller sämst då det är många faktorer som spelar in och när allt kommer omkring endast är ens personliga smak som kan räknas. Några minnesvärda ögonblick värda att nämnas finns det dock och här kommer därför en liten nyårsresumé från MITT whiskyår som gått. Önskar Dig en trevlig resa!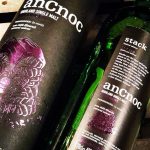 Inledde året som gått (2017) och Januari med ett par trevliga rökwhiskys som jag gillade även om de inte nådde högsta betyg. AncNoc's Stack, en limiterad (nja, hur limiterat är egentligen 6000 flaskor??) utgåva med hela 20 ppm i malten bäddade för att denna något ovanliga rökwhisky ifrån detta fastlandsdestilleri skulle kunna falla mig på läppen och i smaken.
Och det gjorde den faktiskt ganska bra även om jag hade kanske hoppats på lite mer kraftfull röksmak ifrån denna. Man hade även ett annat kul ess sparat i rockärmen och som skulle komma ut lite senare i slutet av året… Peatheart 😉
Den andra rökwhiskyn som jag provade och som faktiskt var lite av en besvikelse var Bruichladdich Octomore 10 y.o Second Limited Edition 57,3%. En dunderrökare på hela 167 ppm och som fått ligga till sig på två olika fattyper som tidigare innehållit Grenache Blanc-vin och Bourbon-whisky. Hyfsat gott blev mitt slutliga omdöme och där i alla fall jag saknade lite av den kraftfulla rökigheten och bettet i smaken.
Februari kom att bjuda på en riktig överraskning då min whiskyblogg här på freddeboos.se fick den stora äran att av Bergslagens Independent Bottler testa ett sampleprov på den första delen av tre i en nytillkommen whiskyserie med namnet Darling. Detta är whisky som är baserad på det uppköpta whiskylagret ifrån det numera nedlagda och stängda Grythyttan Whisky-destilleriet. Även tvåan och trean dök också upp under året! Det skulle även visa sig att Bergslagen hade ännu några fler spännande utgåvor på lager och som skulle lanseras under senare delen av året med namnet ifrån två spännande skogsväsen, Vätte och Skogsrå. Och till sist kom även Tomten! ?
Amnehärad´s Whisky Club köpte i ett tidigt skede och under klubbens inledande tid in sig på en liten fatandel hos Grythyttan ihop med en annan whiskyklubb TPWC (Degerfors) och har även gjort ett litet studiebesök på destilleriet i Örebro. Efter många turer och den som har följt Grythyttan-historien med konkurser, flyttning, nyemissioner osv. var klubbens fatandel så gott som räknad som förlorad. Fast i år kom ändå en riktig kul julklapp och som vi hoppas få kunna skriva mer om framöver när vi väl har hunnit testat den!!
En annan kul whisky som det provades en sample på under denna vintermånaden var den rökiga "experimentwhiskyn" Ballechin 12 y.o 52,5% Burgundy Cask ifrån Edradour, ett av Skottlands minsta destillerier. Detta var för övrigt Svenska Whiskyförbundets egna buteljering nr 23 och som vi i whiskyklubben AWC hade missat att boka upp oss på av nån okänd anledning. För rökwhiskylovers kan alltid Ballechin vara ett kul tips!!
Mars kom att bli en en något mera Speyside-betonad månad och där flertalet av den smakade whiskyn kom ifrån det Skotska inlandet med bl.a två olika versioner av Glenlivet Nadurra och Nadurra Peated. Även en Vintage "First Fill Sherry"-version 99 ifrån Balblair visade sig vara en riktigt trevlig utgåva som kan värd att leta efter om man gillar denna typen av sherrytung och choklad-, gräddkola-, dadlar- och aprikosfylld whisky.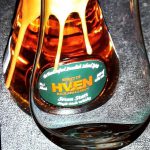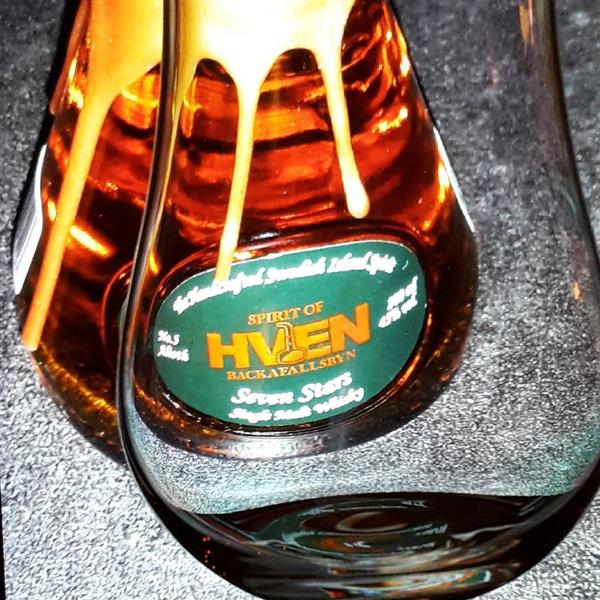 Även här på hemmafronten i landet fanns det nya godsaker att smaka på ifrån vårt sydliga destilleri ute på Hven och nya whiskyn Alioth, den femte sorten ur whiskyserien "Sevens Stars" och där namnet Alioth härstammar från arabiska, alyat som betyder "Fårets svans", efter dess position i asterismen. Alioth är den ljusstarkaste stjärnan i konstellationen och nr.31 bland stjärnor synliga från jorden.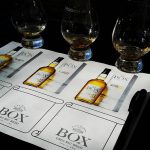 April kom att bjuda på en orgie av svenskdestillerade whiskydroppar när tre versioner och nyinförskaffade samples av BOX 2nd Step Collection 01, 02, och 03 skulle utvärderas! Hoppas verkligen att jag även här nån gång kan göra slag i saken och kunna avlägga ett besök på destilleriet för att få uppleva och se allt det magiska på plats.
Månaden Maj kom att bli ganska stillsam på whiskyfronten för egen del men där vi i whiskyklubben i alla fall hade lyckats samla ihop gänget för att kunna köra en liten provning och klubbens 20:e AWC-event. Klubben fyller för övrigt 8 år i mitten av Mars under 2018 och där vi får se om detta kommer att firas på nått vis.

Juni – Det roliga med whiskybloggande och förutom allt whiskydrickande är när det ibland dyker upp nått spännande och oannonserat paket i brevlådan och man får chansen att smaka nån "samples"-centiliter på nån kommande whiskynyhet eller liknande. Highland Queen är en whisky som är både gammal (sedan slutet av 70-talet) och ny och där det är whiskyimportören Clydesdale som åter har den i lager och som dessutom finns i några olika versioner och årgångar…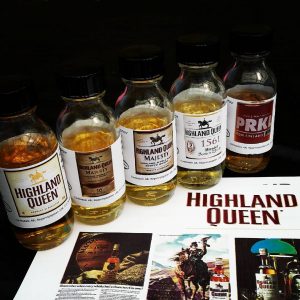 • Highland Queen 1561 Blended 40%
• Highland Queen Blended 40%
• Highland Queen Majesty 16 y.o 40%
• Highland Queen Majesty 40%
Det mindre roliga kom tyvärr sedan att ske i slutet av månaden, på midsommardagen för att vara exakt och där min käre pappa hastigt gick bort. Det blev av naturliga skäl en tung sommar och höst och med allt vad det innebär när hela ens värld rasar både rent praktiskt och även känslomässigt med all sorg man får att bearbeta och försöka ta sig igenom. #saknardigpappa ?
Lagom till mitten av Juli låg en liten semestertripp till Stockholm sedan länge inbokad med frugan och där vi ändå valde att åka iväg. Ardbeg Embassy i Gamla Stan var ett av delmålen och det ångrar jag inte. Att få dricka Ardbeg "straight from the cask" och kunna komplettera upp listan över smakade whiskys med en Ardbeg Supernova 2009 (Stellar Release) 58,9% ifrån deras whiskybar är smakupplevelser man kan leva läääänge på. Hit vill jag åka igen!! ? (den som är lite whiskyintresserad vet att man under hösten/vintern också har kunna boka in sig på några SMWS-provningar här också).
En annan smakupplevelse värd att nämna ifrån denna sommarmånaden och som jag njöt till fullo utav är Smögen Whisky och Sherry 1:2 Project 3 y.o 55,7% (959 btl. 50ppm). Mitt deltagande i dessa Smögen-race har ofta varit ganska få då mina arbetstider gärna ställer till det lite grann när dessa åtråvärda släpp av svensktillverkad whisky lanseras. Här gäller det som vanligt att vara riktigt snabb med beställningsfingret och även kanske skänka en bön till whiskygudarna för att öka på sina chanser i Sb's lilla "whiskylotteri". Hoppas också att nån gång få tid och möjlighet att kunna se detta destilleriet på plats. Vem vet, kanske kan det bli möjlighet att kunna avlägga ett besök på den Bohusländska kusten i år? 😀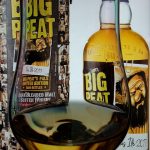 Augusti kom att fortsätta lite grann i sherryns tecken för min del och där en sample av Glenrothes (The Cooper's Choice) Sherry Bomb 57% First fill Oloroso fick mig att smacka med läpparna förnöjt! En annan mycket trevlig rackare som jag inte riktigt hade slantarna över att spendera på var årets version av Big Peat Feis Ile 2017 48%. En whisky som i år dessutom har fått en välkommen finish på sherryfat. En favorit och en av mina bästa whiskys i år!!
Dessutom med ett litet kul upplägg där whiskylovers kunde skicka in sina profilbilder och "Big Peat-faces" för att få chansen att pryda whiskyröret.
September blev lite av rökwhiskyns månad och där jag bland annat kommit över en sample av årets Cairdeas-version ifrån Laphroaig. En whisky som också den släpps lagom till den årliga Feis Ile-festivalen på Islay. Även deras fantastiskt goda Laphroaig 10 y.o #009 (2017) 58,1% och som kommer i en cask strength-version är ett hett tips för alla rökwhiskyälskare!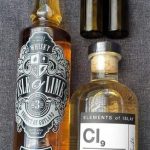 Elements of Islay är ett märke som tillhandahåller ett utbud av ikoniska och självständiga småbatcher av flera olika buteljerade whiskysorter. Årets utgåva Cl9 51,6% (Caol ila) var en av sorterna som ingick i årets lilla samplebox "Battle of The Isles" ifrån whiskyklubben och där även Isle of Lime Roma 50,1% ifrån Gotlands Whisky ingick. Kul!
Oktober bjöd på ännu ett hett smakprov av ett "måstesläpp" för rökwhiskyfreaksen och som här i landet kom upp på Sb's hyllor månaden efter… Ardbeg An Oa. Den kom även att ingå i vår AWC-lineup vid vårt 21:a event med whiskyklubben.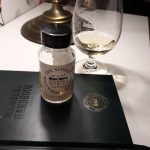 SMWS 10.127 10 y.o "Burning scarecrows by the sea" 62% är en begränsad whisky som kan köpas av SMWS i ett exklusivt medlemserbjudande för svenska medlemmar och som freddeboos.se fått chansen att smaka några "freebie-centilitrar" utav.
Även SMWS 53.119 11 y.o "Wondrous Bliss" 60,2% kom att smakas under månaden ifrån The Scotch Malt Whisky Society. En världsomspännande whiskyklubb som även har en svensk avdelning.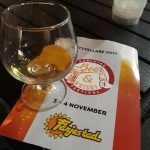 Ett av Novembers största glädjeämnen var mitt första besök vid Carlstad Beer & Whisky-festivalen vid Färjestad Travets lokaler i Karlstad. (som nästa år 2018 förläggs till de mer centrumbelägna lokalerna vid CCC – 2 och 3 Nov)
Vill man läsa mer om denna upplevelsen och vilka sorter som smakades under denna whiskyfestivalen kan man enklast göra det via AWC's hemsida!
När detta skrivs är det sista dagen i December och där det i kväll skall firas in Nyår och 2018!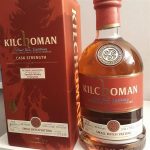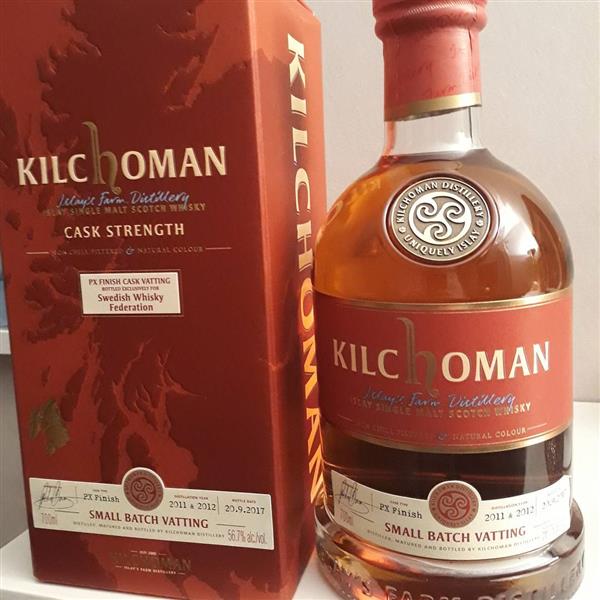 Men innan året avslutas och alla önskar varandra en God Fortsättning så kanske ännu en blogpost om en rökig sherrywhisky kan få det att vattnas lite i munnen. Kilchoman PX Finish Cask Vatting, 56,7% (SWF-26) är höstens buteljering ifrån Svenska Whiskyförbundet och som endast anslutna whiskyklubbar har kunnat köpa in sig flaskor utav.
Gillar man whisky och ej är med i nån whiskyklubb så kan det kanske finnas möjlighet att ansluta till nån redan existerande klubb. Det kostar ju inget att i alla fall ställa frågan… ?
Nyligen smakade Big Peat Xmas Edition 2017 54,1% eller varför inte BenRiach Peated Cask Strength Batch 1, 56% kan vara två alternativ om man är ute efter lite rökig och pheno(l)menal whisky! Glöm heller inte att kolla upp den suveränt goda Glendronach Cask Strength Batch 6, 56,1%!
Det var allt från mig och min whiskyblogg och lilla whiskykrönika för i år!
Stort tack till alla Er besökare och jättekul att ha Er här!!! Sláinte! ??
See You on the other side!! ???